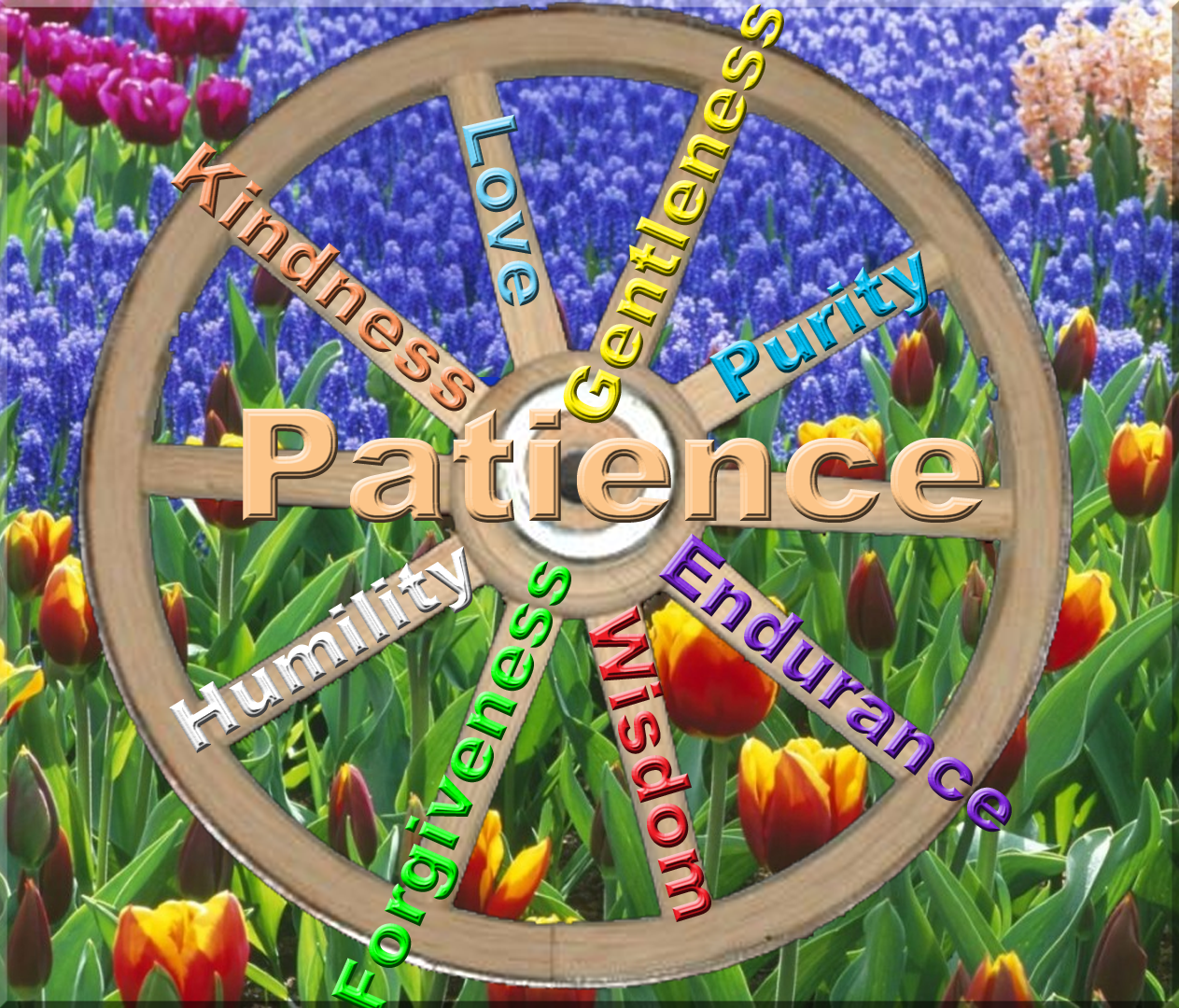 "Don't
be so impatient!" I
was the poster child for "I want patience, and I want it now!"
Impatience was a legacy from my "get-er-done" Dad and dwelled
deep in my heart. When I began painting at 7 years old, I chose the
acrylic medium after an experience of swirling water paint colors
that created a rich dark brown blob. Not my intention at all.
Acrylic stays put and blends into ribbons of colors that can be
identified. And together, those ribbons of color satisfy my hunger
for color.
Marriage
of 61 years, despite some impatience, is an accomplishment that
astounds my husband and me. Raising children through the 'he did it
first' years should have grown a great deal of patience, but instead
it 'tried' my patience. Perhaps that was my reluctance to teach?
But teaching was the school house for patience in many ways for me.
Imagine
my surprise when I learned that patience is a mark of spiritual
maturity, something to be treasured and learned. The art of patience
is not exemplified in the art of 'getting even'. My younger two
brothers, Jim and Gene, and I spent many hours together, usually
arguing and then 'getting even'. Mom tried some of her Mom-isdom on
us. "Don't get even, just wait, God will take care of it!"
So,
there we were, 9, 8 and 7 years old. When one of us slugged another
sibling, one of us would say – just wait – God will get even.
Sure enough, pretty soon the 'hitter' would get hurt without us
touching him. "God got even with you!" we shouted with glee.
Somehow I think that was not the patience God had in mind.
As
I consider patience now, I realize that patience is needed in
situations and with people. One author, Ron Hall described patience
or waiting in the book, Same
Kind of Different As Me,
as watching hair grow or dropping of sand through an hour glass, one
grain at a time. It is like a movie in slow motion.
When
I studied various scriptures, I see that Patience doesn't stand
alone. It is always coupled with another attitude or marker of
spiritual maturity:
– Patience
and Endurance –
being

strengthened
with all power

according to his glorious might so that you may have great
endurance

and patience, Colossians 1:11
– Patience
and Compassion – Therefore, as
God's
chosen people, holy and dearly loved
,
clothe yourselves with
compassion
,
kindness, humility, gentleness

and patience. Colossians 3:12
– Patience
and Purity – in
purity
,
understanding, patience and
kindness
;
in the Holy Spirit and in sincere love; 2 Corinthians 6:6
– Patience
and God – What if
God,

although choosing to show his wrath and make his power known, bore
with great patience the objects of his wrath—prepared for
destruction? Romans 9:22
– Patience
and Wisdom – A person's
wisdom
yields patience;
it is to one's glory to overlook an offense. Proverbs 19:11
– Patience
and Repentance – Or do you show contempt for the riches of his
kindness, forbearance and patience, not realizing that
God's
kindness

is intended to lead you to
repentance
?
Romans 2:4
– Patience
and Gentle Tongue – Through patience a ruler can be
persuaded, and a gentle
tongue
can
break a bone. Proverbs 25:15
Therefore,
achieving a constant attitude of patience, making it a part of who I
am, I can only enjoy patience through the addition by the Holy Spirit
of a gentle tongue, continual repentance, praying for wisdom
(Colossians 1:9), keeping my heart in tune with God, showing acts of
kindness with a kind heart, wearing the right clothing of compassion
and enduring what is.
An
eye for an eye is as old as last Sunday's newspaper. Now it is,
Bless
those who persecute you; bless and do not curse. Romans 12:14.
When
I heard Tim Keller's sermon on Patience, he touched on one sensitive
spot, determining what someone else is thinking – a snap judgement!
Romans 12:18-19 –
I
f
it is possible, as far as it depends on you, live at peace with
everyone. Do not take revenge, my dear friends, but leave room
for God's wrath, for it is written: "It is mine to avenge; I will
repay," says the Lord.

God is saying to me, "
Get
out of my Chair!" (Tim Keller quote)
In
sitting in God's chair and judging we are being self-righteous and
self-centered. The word SELF – says it all. This will simply escalate a negative relationship or
situation and all patience flees.
For
the past nine months I have been given an opportunity, a challenge to
grow patience muscles. Our world has turned upside down because of
my husband's diagnosis of Dementia. Each day I must see the
situation from my husband's point of view, living in a world of
forgetfulness, moving to a strange town, a strange house, a different
state. Each day or two, I must make review his new world and give
him hugs and security. Glimpses of what used-to-be surfaces through
our conversations. I treasure the moments when flashes of his humor
bubbles over in his mind and we share laughter.
And
the humility bubble envelopes me as I praise God for his guidance
through His Word to living in peace and joy. The words in James 12-4
resonates through my heart.
Consider it pure joy, my brothers and sisters, whenever you face
trials of many kinds, because you know that the testing of your faith
produces perseverance. Let perseverance finish its work so that you
may be mature and complete, not lacking anything.
David,
a man after God's own heart, understood the importance of patience.
Psalm 37:3-8 –
Trust
in the
LORD
and
do good; dwell in the land and enjoy safe pasture. Take
delight in the
LORD
,
and he will give you the desires of your heart.
Commit
your way to the
LORD
;
trust in him and he will do this:

He will make your righteous reward shine like the dawn, your
vindication like the noonday sun.
Be
still before the LORD
and
wait patiently for him; do not fret when people succeed in
their ways, when they carry out their wicked schemes. Refrain from
anger and turn from wrath; do not fret—it leads only to evil.
Comments? eacombs@att.net