August 17, 2021 – I Thessalonians 5:9-11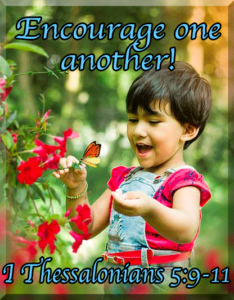 For God has not destined us for wrath, but to obtain salvation through our Lord Jesus Christ, who died for us so that whether we are awake or asleep we might live with Him. Therefore encourage one another and build one another up, just as you are doing. I Thessalonians 5:9-11.
We were born to have salvation through our Lord Jesus Christ.  That means learning to love others as Jesus loves through kindness, gentleness, faithfulness, and forgiveness. 
This love is not a 'sometimes' facade.  God's Love is Forever, whether we are awake or asleep, we are to think of others' good and build them up.
O Father God, may the God of peace make me your very own child. When Jesus comes, I pray He finds me faithful by caring for others. May I walk only within Your Love. I pray in the name of Jesus. Amen.
May I rejoice and give thanks in any circumstance and do good to everyone. This my joy. The Lord your God is in your midst, a mighty one who will save; He will rejoice over you with gladness; He will quiet you by His love; He will exult over you with loud singing. Zephaniah 3:17.
As a deer pants for flowing streams, so pants my soul for you, O God. My soul thirsts for God, for the living God. When shall I come and appear before God? Psalm 42:1-2.
But you, O Lord, are a shield about me, my glory, and the lifter of my head.
I cried aloud to the Lord, and He answered me from His holy hill. Psalm 3:3-4.
See that no one repays anyone evil for evil, but always seek to do good to one another and to everyone. Rejoice always, pray without ceasing, give thanks in all circumstances; for this is the will of God in Christ Jesus for you. I Thessalonians 5:15-18.
Note: God's creation of butterflies brings us the joy of encouragement and wonder at His Plan of our metamorphosis from a cocoon to a new creature in Christ.