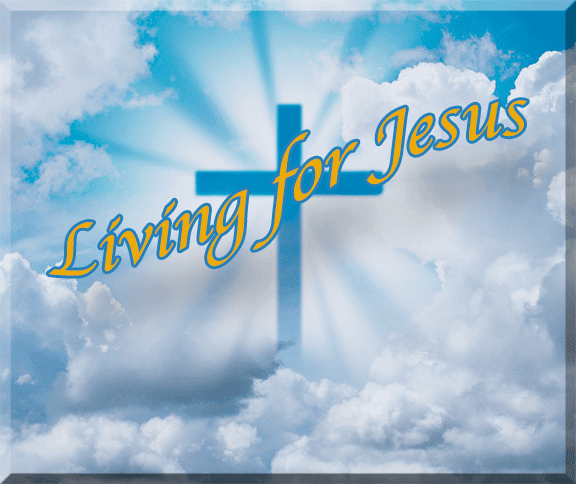 What or Who are you living for today? Our
goals and desires change during our lifetime.
During our early years, we live to please our parents. Our next phase succumbs to peer
pressure. We want to belong to the group
of almost friends that seem to matter most.
When 'the one' appears and we choose this person as our life mate we
want to please 'the one'. There may be an important job, and we learn to please
our boss. Soon our family comes along.
We center our lives on what we consider is best for them.
It
is when we live for Jesus, our lives become balanced and centered.

It is in pleasing Jesus, we finally know who
and Whose we are.

We are no longer a
reflection of what we see in the world around us, we learn to reflect the
forgiving love Jesus has for us and live in humility.
The
lyrical melody of this hymn, Living for
Jesus, caught my heart first of all. The lyrics gave me purpose to continue
to learn to live for Jesus.
With
the audacity of youth, I envisioned this kind of living by what I do – not who
I am in Christ Jesus. What I earn, and then I realized that I cannot earn the
gift of grace. As I study more, I am astonished to learn God knew me before I
was born and has a purpose for my life.
You go before
me and follow me.
You place your hand of
blessing on my head.
Such knowledge is
too wonderful for me,
too
great for me to understand!
You saw me before I was born.
Every day of my life was
recorded in your book.
Every moment was laid out
before a single day had passed.
Psalm 139:5-6,16.
And we know that God
causes everything to work together for the good of those who love God and
are called according to his purpose for them. Romans 8:28.
When I think I know all there is to know on earth, and have
my life in control, I remember the questions God posed to Job. And I know
humility – and realize why there is no other way, but Living for Jesus, the One and Only Son of God. Reading all of Job
38 produces humility and worship for our Lord God.
"Can you direct the
movement of the stars—binding the cluster of the Pleiades
or loosening the cords of Orion?
Can you direct the constellations through the seasons
or guide the Bear with her cubs across the
heavens?
Do you know the laws of the
universe?
Can you use them to regulate the
earth?
" Job 38:31-33.
We know how much God loves us, and we have put our trust
in his love. God is love, and all who live in love live in God, and God lives
in them.
And as we live in
God, our love grows more perfect. So, we will not be afraid on the day of
judgment, but we can face him with confidence because we live like Jesus here
in this world.
I John 4:16-17.
The
extraordinary beauty of God's Word is the preciousness of the wisdom- nuggets
found with every reading and praying only a verse or two! God is ever faithful.
Love is jam-packed with humility, wisdom, faithfulness, and truth.

This is Living
for Jesus.
With
age comes the thrill of ownership loses its appeal. Acquiring a worldly 'new
anything' on this earth cannot compare with the new mercies from God each
day.

This includes reading His Word and
uncovering yet another understanding of His great love with new mercies each
day.

His promises of eternal life are a
reality of a forever song singing in my heart.
The faithful
love of the

Lord

never
ends!
His mercies never cease.
Great is his faithfulness;
his mercies begin afresh each morning.
I
say to myself, "The

Lord

is
my inheritance;
therefore, I will hope in
him!
" Lamentations 3:22-24.
Living for Jesus came
tune first. The lyrics were added by Thomas Obadiah Chisolm (1866-1960). Thomas
Chisolm was born in Kentucky.

He lacked
formal education, yet he became a teacher at the age of 16, and at 21, he
became the associate editor of his hometown weekly newspaper.

In 1893, Chisholm became a Christian through
the founder of Asbury College/Seminary. He was ordained as a Methodist minister
in 1903.

However, due to ill health it was
a brief term. Harold Lowden (1883-1963) composed the tune in the early 1900's
for a Children's Day Service.

In 1917,
he substituted the theme Living for Jesus
– and sent the tune to Thomas Chisholm, asking him to compose the lyrics.
Chisolm protested he had never done this before. He didn't know the process of
working tune first. However, Lowden shared he believed God had led him to
select Chisolm to write the lyrics. It wasn't long until the finished four
stanzas and a refrain were returned to Lowden.
Chisholm's purpose in writing songs, "I have greatly desired
that each hymn might have some definite message to the hearts of people it is
written."
Refrain:
Living for Jesus a life that is true, striving
to please him in all that I do, yielding allegiance, glad-hearted and free,
this is the pathway of blessing for me.
O Jesus, Lord and Savior, I give myself to
thee, for thou, in thy atonement, didst give thyself for me; I own no other
master, my heart shall be thy throne, my life I give, henceforth to live, O
Christ, for Thee alone.
First
Verse: Living for Jesus, a life that is true; Striving to please Him in all
that I do. Yielding allegiance, glad-hearted and free. This is the pathway of
blessing for me.
Fourth verse – Living for Jesus
through earth's little while. My dearest treasure, the light of His Smile.
Seeking the lost ones, He died to redeem.
Bringing the weary to find rest in Him.
Romans
12:1-2 – And so, dear brothers and sisters, I plead with
you to give your bodies to God because of all he has done for you. Let them be
a living and holy sacrifice—the kind he will find acceptable. This is truly the
way to worship him.

Don't copy the behavior and customs of this world, but let
God transform you into a new person by changing the way you think. Then you
will learn to know God's will for you, which is good and pleasing and perfect

.
Comments? eacombs@att.net