In the morning, O LORD, you hear my voice; in the morning I lay my requests before you and wait in expectation. Psalm 5:3
This verse began a mental excursion on the path of Expectations. Yes, we have many expectations in this life. Our 'hand' is always out. But what does God expect of us? He also has expectations. Are we aware of Him? Does our heart sing Revelation 4:8?
"
Holy, holy, holy is the Lord God Almighty, who was, and is, and is to come
."
Expectations can be unrealistic. I grew up on a series of fairy tales, carefully chosen by the worn covers and the number of quotation marks in the book (my expectations). I understood from these books that every fair maiden will have a Knight astride a white horse who will swoop the fair maiden off her feet and they would ride off into the sunset and into the Forever Happy.
When I met my Knight, I recognized him right away, he rode a horse, although it wasn't white. Then reality shattered my fragile expectations of girlhood. I learned that the 'Forever Happy' was filled with expectations of my Knight for me. Coming together through the birth of four children in rapid succession created a happy time with fulfilling the expectations of four little ones. It was an investment. Now the 'Forever Happy' kicks in with the love of grandchildren and great grandchildren compounded many times over.
When I think of expectations I think of my mother. At her death, two of the ministers she knew, commented on her 'look'. I knew it well but didn't know she shared it with others. That 'look' could make me re-think my behavior and direction. When I was 65 years old, I got that look. And then Mother suggested I read this verse:
"
–
Therefore, as God's chosen people, holy and dearly loved,
clothe yourselves with compassion
, kindness, humility, gentleness and patience. Bear with each other and forgive whatever grievances you may have against one another. Forgive as the Lord forgave you. And over all these virtues put on love, which binds them all together in perfect unity. Let the peace of Christ rule in your hearts, since as members of one body you were called to peace. And be thankful
." Colossians 3:12-15
Mother was right. No matter where I am in this life, her expectations, aligned with God's expectations of me, echo in my heart. They guide my life's path and nudge me back on the straight and narrow when I begin to wander away.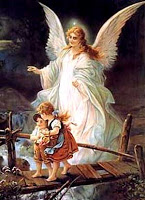 When Mother was five years old, 1912, her family moved into 'castle' farm house. (Castle to her young eyes.) Her mother, with the help of her two daughters, papered the upstairs southeast bedroom. The room had a large south window where they could watch the birds and the sun warmed the room as the cool central Kansas breeze fanned the room. Her mother added the picture that comforted Mom through the years…a guardian angel that God sent. It taught her God's care. Her trust in God's wisdom grew through the years. Discerning right from wrong was her second sight. In her last years her daughter-in-law and I found a copy of the picture and hung it in her bedroom.
Searching for more meaning of the word expectation, I learned that in the synonym list were the words –
anticipation, hope and trust
. I learned in Colossians 3:12-15, God's expectations of me – and His expectations are living holy – even as He is holy. Where I falter, the sacrifice of His Son, Jesus, covers me.
If we but ask, He will give us much more than we expect or could anticipate. This requires hope and trust on our part – dependence upon Him.
In the past few years I have learned a bit about painting. My friend and I discovered Donna Dewberry method. By coating the brush with several colors of paint – the result is always astounding. It is much more than expected and creates depth of light and shadow. Watching His creation on earth, the depth, the colors, the variety of creativity continues to astound me. Just as He created non-ending beauty with His hands here on earth, when we trust Him and are sensitive to His Look and Touch, He forms in us His expectation of beauty of holy living.
Always we remember the verse that gives us hope and anticipation of eternal life – "
Salvation is found in no one else, for there is no other name under heaven given to men by which we must be saved.
" Acts 4:12.
This is our ultimate expectation of our relationship with Jesus Christ – Salvation – Eternal Life.
In this season of Thanksgiving, let us remember the expectation of God from Colossians 3 – "
And be thankful
." I Thessalonians 5:18 – "
give thanks in all circumstances, for this is God's will for you in Christ Jesus
."
"Thanking God helps us to see Him more clearly in our lives!"