June 8, 2021 – Psalm 84:1-3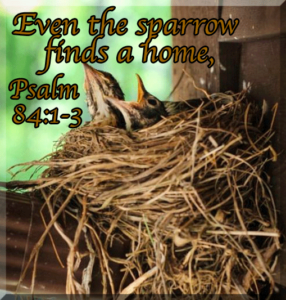 How lovely is your dwelling place, O Lord of hosts! My soul longs, yes, faints for the courts of the Lord; my heart and flesh sing for joy to the living God. Even the sparrow finds a home, and the swallow a nest for herself, where she may lay her young, at your altars, O Lord of hosts, my King, and my God. Psalm 84:1-3.
Each day the sparrows fly by the window, I am reminded of these verses,

But even the hairs of your head are all numbered. 

 Fear not, therefore; you are of more value than many sparrows.  Matthew 10:30-31.  
Then I know,
O 

Lord

 of hosts, 
blessed is the one who trusts in You!
 Psalm 84:12
Then I pray,
O 

Lord

 God of hosts, hear my prayer; 
give ear, O God of Jacob! 

Selah!
 Behold our shield, O God;
look on the face of your anointed! (Psalm 84:8-9)  I choose Your Peace and Righteousness, and pray in Jesus' Name, Amen.
Therefore be imitators of God, as beloved children.
 And walk in love, as Christ loved us and gave Himself up for us, a fragrant offering and sacrifice to God.  Ephesians 5:1-2.
Let Your work be shown to your servants,
and Your glorious power to their children. 
Let the favor of the Lord our God be upon us,
and establish the work of our hands upon us; 
yes, establish the work of our hands

! Psalm 90:16-17.  
And the peace of God, which surpasses all understanding, will guard your hearts and your minds in Christ Jesus
.  Philippians 4:7.
For a day in your courts is better than a thousand elsewhere. I would rather be a doorkeeper in the house of my God than dwell in the tents of wickedness. For the Lord God is a sun and shield; the Lord bestows favor and honor. No good thing does He withhold from those who walk uprightly. Psalm 84:10-11.