June 7, 2019 – Psalm 34:19-21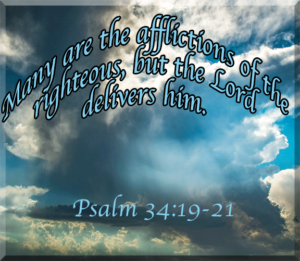 Many are the afflictions of the righteous, but the Lord delivers him out of them all. He keeps all his bones; not one of them is broken. Affliction will slay the wicked, and those who hate the righteous will be condemned. Psalm 34:19-21.
We do not understand the ways and the thoughts of God. We become discouraged and tired of the troubles heaping upon us.  I am weary with my moaning; every night I flood my bed with tears; I drench my couch with my weeping. Psalm 6:6.
I waited patiently for the Lord; He inclined to me and heard my cry.
 He drew me up from the pit of destruction, out of the miry bog, and set my feet upon a rock, making my steps secure.  Psalm 40:1-2. 
But may all who seek You rejoice and be glad in You; may those who love Your salvation say continually, "Great is the Lord!" Psalm 40:16.
Being faithful and trusting God changes the lives of others. Remember the story of Daniel in the lions' den?  King Darius condemned Daniel to certain death. Daniel's faith in God remained secure. Then the king was exceedingly glad, and commanded that Daniel be taken up out of the den. So Daniel was taken up out of the den, and no kind of harm was found on him, because he had trusted in his God.  Daniel 6:23. 
But as for me, my prayer is to you, O Lord. At an acceptable time, O God, in the abundance of your steadfast love, answer me in your saving faithfulness.  Psalm 69:13.  
Prove me, O Lord, and try me; test my heart and my mind. For Your steadfast love is before my eyes, and I walk in Your faithfulness. Psalm 26:2-3.
The Lord redeems the life of his servants; none of those who take refuge in him will be condemned. Psalm 34:22.