June 29, 2021 – Psalm 8:1-4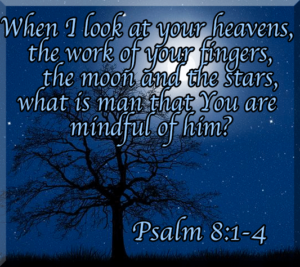 O Lord, our Lord, how majestic is Your name in all the earth! You have set your glory above the heavens. Out of the mouth of babies and infants, You have established strength because of your foes, to still the enemy and the avenger. When I look at your heavens, the work of  Your  fingers, the moon and the stars, which You have set in place, what is a man that you are mindful of him, and the son of man that you care for him? Psalm 8:1-4.
What's in a Name?  People know us through our actions, our words, our response to others.   The heavens declare the glory of God, and the sky above proclaims His handiwork. Psalm 19:1.
No One else could have put the stars in place or created a tiny baby.  No One else could love the unlovable and forgive us by sending His Son, Jesus, to die for our sins on the cross.   No one else could create a bird's song or place dreams in our hearts of His Peace and Joy.
O Lord, our God, open my eyes that I may see how You love us. You have done great things…and yet you care for us! May we be mindful of Your Majesty and Praise You all the days of our Life.  In Jesus' Name I pray, Amen!
The Lord is my shepherd; I shall not want. He makes me lie down in green pastures. He leads me beside still waters. He restores my soul. He leads me in paths of righteousness for His Name's Sake. Psalm 23:1-3. 
He put a new song in my mouth, a song of praise to our God. Psalm 40:3a.
Yet you have made him a little lower than the heavenly beings and crowned him with glory and honor. O Lord, our Lord, how majestic is Your name in all the earth! Psalm 8:5,9.