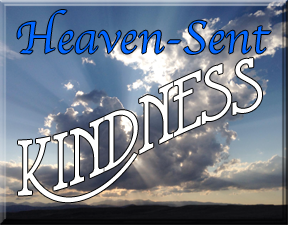 Kindness is a word of action that emanates from love, mercy, and grace.

The synonyms for Kindness contain three of the Fruit of the Spirit – Gentleness, Goodness, Patience or Forbearance.
Where does the Fruit of the Spirit come from?

I return over and over to this verse,
Even before he made the world, God loved us and chose us in Christ to be holy and without fault in his eyes.
Ephesians 1:4.

Our Jehovah God is the God of Action and Love.

There is no equal! Faithful and Kind, God always cares for His children.

Past, present and future tense – eternally, He is our God.
It has been nearly forty years ago since my Dad Herman Siemens left this earth.

I can no longer remember the sound of his voice, but I remember the essence of his energy, kindness, and love.

He made 'going the extra mile' a part of his life.

When he offered to take someone home from church, and they said, "you can let me out here.'

He always answered, "When I take someone home, they are 'took' home."

Laughter, because of his purposefully mangled English, always filled the car.
Kindness began with God's love.

Along with goodness, the world was made.

Patience and gentleness come from God's love alone.

Everything that is good, filled with joy and peace, comes from God Himself.

How He longs for His Will to be done on earth as it is in Heaven.
He sent Jesus to be the sacrifice for our sins.

Why?

For God so loved the world that He gave His only begotten Son, that whoever believes in Him should not perish but have everlasting life. For God did not send His Son into the world to condemn the world, but that the world through Him might be saved.

John 3:16-17.
Jesus left his place beside His Father in Heaven, to be the recipient of all the acts of vile unkindness devised by Satan within the hearts of men.

He was betrayed, beaten, mocked, scourge forsaken and finally crucified between two thieves.

When we choose someone to worship, it will not be someone who lies dead, but raised to new life by God himself – Jesus, Who returned to Heaven.
Jesus is Lord, more than a prophet or a teacher.

All the pain and suffering on earth Jesus endured was because of His love and kindness for us.
What does Kindness look like?
Serving, Giving and Sharing in the name of Jesus
.
·
Giving your food to the hungry.
·
Giving your coat to someone who is cold.
·
Sharing hospitality to strangers.
·
Smiling to ease a hurt soul and give them hope.
·
Using common courtesy with words such as please and thank you.
·
Speaking words of encouragement to the discouraged.
And the King will answer and say to them, 'Assuredly, I say to you, inasmuch as you did

it

to one of the least of these My brethren, you did

it

to Me.' Matthew 25:40
What does it take to a kind person?
·
It takes a spirit of humility.
·
It takes the constant joy of Jesus.
·
It takes a gentle hand.
·
It takes love that leads to awareness of needs of others
·
It takes peace within and self-control to love like Jesus.
·
It takes a Jesus-heart to give kindness to others.
Kindness according to Scriptures:
For His merciful kindness is great toward us. And the truth of the

Lord

endures forever. Praise the

Lord

! Psalm 117:2

And raised us up together, and made us sit together in the heavenly places in Christ Jesus, that in the ages to come He might show the exceeding riches of His grace in His kindness toward us in Christ Jesus. For by grace you have been saved through faith, and that not of yourselves; it is the gift of God. Ephesians 2:6-8

For we ourselves were also once foolish, disobedient, deceived, serving various lusts and pleasures, living in malice and envy, hateful and hating one another. But when the kindness and the love of God our Savior toward man appeared, not by works of righteousness which we have done, but according to His mercy He saved us, through the washing of regeneration and renewing of the Holy Spirit. Titus 3:3-5

But also for this very reason, giving all diligence, add to your faith virtue, to virtue knowledge, to knowledge self-control, to self-control perseverance, to perseverance godliness, to godliness brotherly kindness, and to brotherly kindness love. For if these things are yours and abound, you will be neither barren nor unfruitful in the knowledge of our Lord Jesus Christ. 2 Peter 1:5-8

Therefore, as the elect of God, holy and beloved, put on tender mercies, kindness, humility, meekness, longsuffering; bearing with one another, and forgiving one another, if anyone has a complaint against another; even as Christ forgave you, so you also must do. Colossians 3:12-13

Let all bitterness, wrath, anger, clamor, and evil speaking be put away from you, with all malice. And be kind to one another, tenderhearted, forgiving one another, even as God in Christ forgave you. Ephesians 4:31-32

Comments? Emily@Emilys-Snippets.com