September 9, 2021 – Psalm 119:11-13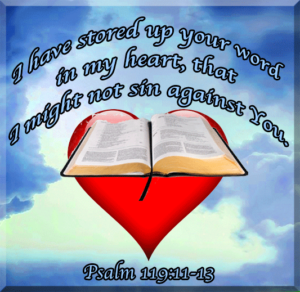 I have stored up Your Word in my heart, that I might not sin against You. Blessed are you, O Lord; teach me your statutes! With my lips, I declare all the rules of your mouth. Psalm 119:11-13.
Your Word is Life to me. Jesus said to him, "I am the way, and the truth, and the life. No one comes to the Father except through me.  If you had known me, you would have known my Father also. From now on you do know Him and have seen Him." John 14:6-7.
Jesus said to them, "I am the bread of life; whoever comes to me shall not hunger, and whoever believes in me shall never thirst."  John 6:35.
There is physical hunger, and there is spiritual hunger. In Christ Jesus, both are satisfied.  True Joy begins in delighting in the richness of placing our trust in Jesus Christ and walking in His way.
 If then you have been raised with Christ, seek the things that are above, where Christ is, seated at the right hand of God. Set your minds on things that are above, not on things that are on earth. For you have died, and your life is hidden with Christ in God. Colossians 3:1-3.
O, Almighty Lord Jesus, may I delight in your Truth and stand firm in You all my days. Place your Words and your teachings before me each moment. May I trust in You with my whole being. In the name of Jesus, I pray. Amen.
You keep him in perfect peace whose mind is stayed on You. Isaiah 26:3a.
In the way of your testimonies I delight as much as in all riches. I will meditate on your precepts and fix my eyes on your ways. I will delight in your statutes; I will not forget Your Word. Psalm 119:14-16.