September 29, 2020 – Isaiah 43:1-3a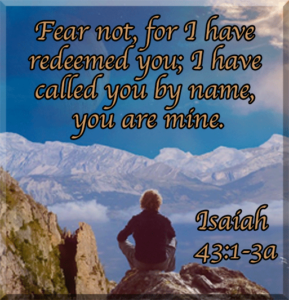 But now thus says the Lord, He who created you, O Jacob, He who formed you, O Israel: "Fear not, for I have redeemed you; I have called you by name, you are mine. When you pass through the waters, I will be with you; and through the rivers, they shall not overwhelm you; when you walk through fire you shall not be burned, and the flame shall not consume you. For I am the Lord your God, the Holy One of Israel, your Savior." Isaiah 43:1-3a.
For You formed my inward parts; You knitted me together in my mother's womb. Psalm 139:13.  He will never forget each of us. Behold, I have engraved you on the palms of my hands; your walls are continually before me. Isaiah 49:16. 
But he who enters by the door is the shepherd of the sheep.  To him the gatekeeper opens. The sheep hear His voice, and He calls his own sheep by name and leads them out. John 10:2-3. 
To our Lord and King,  we can never forget our Creator and The One Who makes a way for us. We look to You only for guidance and protection.  Lead me in Your Way.  In His Mighty Name, I pray. Amen. 
Our Holy One protects us through the dangers of this world, giving us Hope and His Faithful Love.
The counsel of the Lord stands forever, the plans of His heart to all generations. Blessed is the nation whose God is the Lord,  the people whom He has chosen as His Heritage!  Psalm 33:11-12.
"I am the Lord, your Holy One, the Creator of Israel, your King." Thus says the Lord, who makes a way in the sea, a path in the mighty waters, who brings forth chariot and horse, army and warrior; they lie down, they cannot rise, they are extinguished, quenched like a wick: "Remember not the former things, nor consider the things of old." Isaiah 43:15-18.