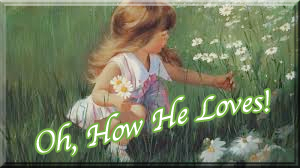 It was 1934, and my Dad held my hand as we climbed the stairs to First Christian Church in Clinton, Oklahoma.

At the tender age of 5, I thought the stairs led to Heaven, there were so many.

Dad led me to the short back row bench near the back door of the church.

When the service began, he propped up his leg and it became a platform to hold the brown Favorite Hymns book, Copyright – 1933.
Dad pointed the way to follow the words of each verse in that jumble of words and notes.

This is where I learned the wonders Christian hymns from words like, "On a hill far away, stood an old rugged cross, an emblem of suffering and shame," my brother Jim's favorite on page 61 – "Love lifted me! When nothing else could help, Love lifted me."

Then there is "I'm living on the mountain, underneath a cloudless sky, – O yes,! I'm feasting on the manna from a bountiful supply, for I am dwelling in Beulah Land."
When I began playing for Christian Endeavor (youth), I only knew how to play one hymn. "Sing them over to me, Wonderful words of Life…."

Only three verses, finally they asked me after about 6 meetings to learn another song.

That is how I began to play at church.
Last Lord's Day, these are the lyrics we sang!

A declaration of His Love for us:
He is jealous for me, Loves like a hurricane, I am a tree,
Bending beneath the weight of his wind and mercy.
When all of a sudden,
I am unaware of these afflictions eclipsed by glory,
And I realize just how beautiful You are,
And how great Your affections are for me.
Oh how he loves, He loves us, Oh! how He loves us, Oh! how He loves us, Oh! how He loves.
And we are His portion and He is our prize, Drawn to redemption by the grace in His eyes, If His grace is an ocean, we're all sinking.
And Heaven meets earth like an unforeseen kiss, And my heart turns violently inside of my chest, I don't have time to maintain these regrets, When I think about, the way…
Oh, how He loves us oh, Oh how He loves us, How He loves us all. How He loves…
(https://www.youtube.com/watch?v=GzfPHnoT0-0) John Mark McMillan
Matthew 11:29 –
Take my yoke upon you, and learn from me, for I am gentle and lowly in heart, and you will find rest for your souls.
John 3:16
– For God so loved the world, that he gave his only Son, that whoever believes in him should not perish but have eternal life.
Romans 8:37-39
– For I am sure that neither death nor life, nor angels nor rulers, nor things present nor things to come, nor powers, nor height nor depth, nor anything else in all creation, will be able to separate us from the love of God in Christ Jesus our Lord.
Zephaniah 3:17
– The LORD your God is in your midst, a mighty one who will save; he will rejoice over you with gladness; he will quiet you by his love; he will exult over you with loud singing.
Isaiah 41:10
–
Fear not, for I am with you; be not dismayed, for I am your God; I will strengthen you, I will help you, I will uphold you with my righteous right hand
Psalm 121:1-2
– I lift up my eyes to the hills. From where does my help come? My help comes from the
Lord
, who made heaven and earth.
I John 3:16
– By this we know love, that he laid down his life for us, and we ought to lay down our lives for the brothers.
Psalm 86:15
– But you, O Lord, are a God merciful and gracious, slow to anger and abounding in steadfast love and faithfulness.
Ephesians 2:4-5
– But God, being rich in mercy, because of the great love with which he loved us, even when we were dead in our trespasses, made us alive together with Christ— by grace you have been saved …
John 15:13
–
Greater love has no one than this, that someone lay down his life for his friends.
Isaiah 49:16
–
Behold, I have engraved you on the palms of my hands; your walls are continually before me.
Romans 5:8
– but God shows his love for us in that while we were still sinners, Christ died for us.
1 John 3:1-3
–
See what kind of love the Father has given to us, that we should be called children of God; and so we are. The reason why the world does not know us is that it did not know him. Beloved, we are God's children now, and what we will be has not yet appeared; but we know that when he appears we shall be like him, because we shall see him as he is. And everyone who thus hopes in him purifies himself as he is pure.
What do we do to receive His Love?
Ephesians 2:8
– For by grace you have been saved through faith. And this is not your own doing; it is the gift of God.
Romans 6:23
– For the wages of sin is death, but the free gift of God is eternal life in Christ Jesus our Lord.


Comments? eacombs@eacombs@cox.net