October 7, 2020 – Psalm 94:16-18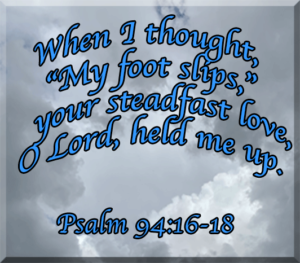 Who rises up for me against the wicked? Who stands up for me against evildoers? If the Lord had not been my help, my soul would soon have lived in the land of silence. When I thought, "My foot slips," your steadfast love, O Lord, held me up. Psalm 94:16-18. 
All around us, we see wickedness. Nevertheless, I am continually with you; you hold my right hand. You guide me with your counsel, and afterward You will receive me to glory. Psalm 73:23-24.  
When all seems lost, I turn to You, Oh, Lord. The Lord is my strength and my shield; in Him my heart trusts, and I am helped; my heart exults,  and with my song I give thanks to Him. Psalm 28:7. 
How awesome is He, He hears us when we pray. The Lord looks down from heaven; He sees all the children of man; from where He sits enthroned He looks out on all the inhabitants of the earth, He who fashions the hearts of them all and observes all their deeds. Psalm 33:13-15. 
Jehovah, Almighty, hear us as we pray, lift us up and be our stronghold. Your counsel stands forever, to all generations.  Help us to hear and know Your Presence each moment of the day.  I praying in the name of your Son, Jesus.  Amen.
Search me, O God, and know my heart! Try me and know my thoughts! And see if there be any grievous way in me, and lead me in the way everlasting!  Psalm 139:23-24.  
He makes me lie down in green pastures. He leads me beside still waters.  He restores my soul.
He leads me in paths of righteousness  for His name's sake. Psalm 23:2-3.
But the Lord has become my stronghold, and my God the rock of my refuge. He will bring back on them their iniquity and wipe them out for their wickedness; the Lord our God will wipe them out. Psalm 94:22-23.