October 19, 2021 – Reflection on "The Tree's Point of View!"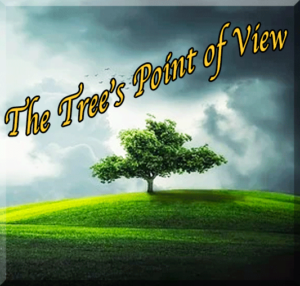 I think that I shall never see. A poem lovely as a tree.   A tree whose hungry mouth is pressed Against the earth's sweet flowing breast. A tree that looks at God all day And lifts her leafy arms to pray.  A tree that may in Summer wear a nest of robins in her hair. (This is a portion of Joyce Kilmer's poem about a tree.)
When God created the heavens and the earth, He also speaks trees into being. And God said, "Behold, I have given you every plant yielding seed that is on the face of all the earth, and every tree with seed in its fruit. You shall have them for food. And to every beast of the earth and to every bird of the heavens and to everything that creeps on the earth, everything that has the breath of life, I have given every green plant for food." And it was so. Genesis 1:29-30.
His Word talks about many types of trees. He commanded Noah to make the ark with gopher wood. In Exodus. The ark of the Covenant was to be made of acacia wood with poles of acacia wood. The frames of the tabernacle also were made of acacia wood. It was grown in Africa and Australia. It was widely used by the Children of Israel and named in Exodus. In Australia, it was resistant to fire. It is a common food source and host plant for butterflies. It is often used for making furniture.
God uses everything He creates to teach or used for His purposes. Zacchaeus, a short man, wanted to see Jesus, and went to Jericho. Zacchaeus climbed up into a sycamore tree. God knows every detail of our lives, and He wanted Zacchaeus to see Jesus. He prepares things for us long before they are needed. Zacchaeus found the tree that God put into someone's heart to plant there, long before Zacchaeus wanted to see Jesus. (Luke 19).
We all know that a tree's roots extend underground to the size of the tree above. Apostle Paul wrote this to the Ephesians: For this reason I bow my knees before the Father, from whom every family in heaven and on earth is named, that according to the riches of his glory he may grant you to be strengthened with power through His Spirit in your inner being, so that Christ may dwell in your hearts through faith—that you, being rooted and grounded in love, may have strength to comprehend with all the saints what is the breadth and length and height and depth, and to know the love of Christ that surpasses knowledge, that you may be filled with all the fullness of God. Ephesians 3:14-19.
Yes, just as a tree is rooted, so it cannot be moved, we are deeply rooted in the faith and grounded in love that we will not succumb to a strong wind of unrighteousness.
"A tree that may in Summer wear, A nest of robins in her hair." How many ways does a tree serve? The wood from a tree can create a warming fire. It can provide shade for the weary during the summer. A tree's sturdy limbs can hold the rope for a child's swing or make an easy way to climb a tree. One of my treasures is the photo of my two younger children making themselves at home in a tree in a tree after climbing it.
My parents, raised on a farm, always had a garden in a vacant lot nearby in the city. Then one day they read this scripture from Revelation 22:2. Then the angel showed me the river of the water of life, bright as crystal, flowing from the throne of God and of the Lamb through the middle of the street of the city; also, on either side of the river, the tree of life with its twelve kinds of fruit, yielding its fruit each month. The leaves of the tree were for the healing of the nations.
No longer will there be anything accursed, but the throne of God and of the Lamb will be in it, and his servants will worship him. They will see his face, and his name will be on their foreheads. And night will be no more. They will need no light of lamp or sun, for the Lord God will be their light, and they will reign forever and ever. Revelation 22:1-5.
Although they tried grafting limbs from twelve different fruit trees into one tree, they could not. Now that they no longer walk this earth, they are in the presence of God, I wonder if they have found this tree.
There is another time when a tree was created and gave itself to become the cross upon which our Lord Jesus was crucified. Did God know which tree it would be? I'm sure He did. Is this why Jesus taught this? "This is my commandment, that you love one another as I have loved you. Greater love has no one than this, that someone lay down his life for his friends. You are my friends if you do what I command you." John 15:12-14.
Did the tree know of the Love that was shown on the cross, it became that day? "For God so loved the world, that He gave His only Son, that whoever believes in Him should not perish but have eternal life. For God did not send his Son into the world to condemn the world, but in order that the world might be saved through Him." John: 3:16-17.
"A tree whose hungry mouth is pressed, Against the earth's sweet flowing breast. A tree that looks at God all day And lifts her leafy arms to pray."
"Blessed is the man who trusts in the Lord, whose trust is the Lord. He is like a tree planted by water, that sends out its roots by the stream, and does not fear when heat comes, for its leaves remain green, and is not anxious in the year of drought, for it does not cease to bear fruit." Jeremiah 17:7-8.
Delight yourself in the Lord, and He will give you the desires of your heart. Commit your way to the Lord; trust in Him, and He will act. He will bring forth your righteousness as the light, and your justice as the noonday. Psalm 37:4-6.
Just as a tree looks at God all day in the poem and lifts her leafy arms to pray, serving the Lord. We, too, as His creation in God's own image, lift our hearts to pray and serve our Lord God with gentleness and love.
"For you shall go out in joy and be led forth in peace; the mountains and the hills before you shall break forth into singing, and all the trees of the field shall clap their hands. Instead of the thorn shall come up the cypress; instead of the brier shall come up the myrtle; and it shall make a name for the Lord, an everlasting sign that shall not be cut off." Isaiah 55:12-13.
Joyce Kilmer's last line of his poem is this: But only God can make a tree.  Just as only God can forgive us and lead us to be His own.