October 16, 2020 – Psalm 104:16-18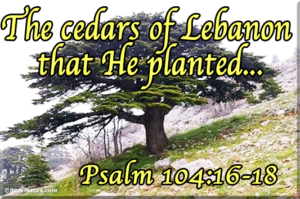 The trees of the Lord are watered abundantly, the cedars of Lebanon that He planted. In them the birds build their nests; the stork has her home in the fir trees. The high mountains are for the wild goats; the rocks are a refuge for the rock badgers. Psalm 104:16-18.
 Our Lord God has a purpose for every creation He placed n the earth, sky and in the sea. He knows the number of grains of sand, and counts the stars, and the hair of our heads.   The trees become a shelter for the birds.  Even storks find their home in fir trees.
The high mountains make a playground for wild goats, and rocks are a refuge for rock badgers. Mount Sinai is the mountain from which Moses gave the Ten Commandments.  And a rock describes the surety of our salvation. The Lord is my rock and my fortress and my deliverer, my God, my rock, in whom I take refuge, my shield, and the horn of my salvation, my stronghold.  Psalm 18:2 
Our Lord Almighty, I sing praise and meditate on your Name. I rejoice in your awe and splendor as long as I have breath. In Jesus' Name I pray that I please You.  Amen.
Therefore God has highly exalted Him and bestowed on Him the name that is above every name,  so that at the name of Jesus every knee should bow, in heaven and on earth and under the earth,  and every tongue confess that Jesus Christ is Lord, to the glory of God the Father. Philippians 2:9-1.
May the glory of the Lord endure forever; may the Lord rejoice in His works, Who looks on the earth and it trembles, Who touches the mountains and they smoke! I will sing to the Lord as long as I live; I will sing praise to my God while I have being. May my meditation be pleasing to Him, for I rejoice in the Lord. Psalm 104:31-34.