November 6, 2019 – John 14:6-7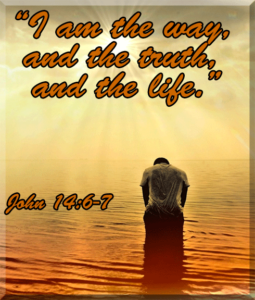 Jesus said to him, "I am the way, and the truth, and the life. No one comes to the Father except through me. If you had known me, you would have known my Father also. From now on you do know Him and have seen Him." John 14:6-7.
Being lost while traveling in this world creates terror for us.  We want to know which way is true North to set things straight. A compass, a map, or a GPS create some semblance of being sure we will find our way home.  
We also want to know truth in a spiritual realm.  Who do we trust?We trust Jesus, God's own Son.  In the beginning was the Word, and the Word was with God, and the Word was God.  He was in the beginning with God.  John 1:1-2.  Jesus is the way, He is the truth, and in Him is life. 
The last words of the book of Matthew are these, And behold, I am with you always, to the end of the age!  The name of Jesus is powerful and mighty.  How do we stay in touch? Through constant prayer, a relationship, walking in His Way and trusting Him.
Another promise from Jesus, before He left this earth, is given in John 14:27.  Peace I leave with you; my peace I give to you. Not as the world gives do I give to you. Let not your hearts be troubled, neither let them be afraid.  
"Truly, truly, I say to you, whoever believes in me will also do the works that I do; and greater works than these will he do because I am going to the Father. Whatever you ask in my name, this I will do, that the Father may be glorified in the Son. If you ask me anything in my name, I will do it.  John 14:12-14.