November 5, 2020 – I John 4:4-6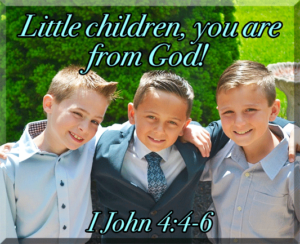 Little children, you are from God and have overcome them, for he who is in you is greater than he who is in the world. They are from the world; therefore they speak from the world, and the world listens to them. We are from God. Whoever knows God listens to us; whoever is not from God does not listen to us. By this, we know the Spirit of truth and the spirit of error. I John 4:4-6.
Jesus said, "Let the little children come to me and do not hinder them, for to such belongs the kingdom of heaven."  Matthew 19:14. 
"Truly, I say to you, unless you turn and become like children, you will never enter the kingdom of heaven. Whoever humbles himself like this child is the greatest in the kingdom of heaven."  Matthew 18:3-4.  
How can we love as little children?  With Joy and Acceptance.   But to all who did receive Him, who believed in His name, He gave the right to become children of God.  John 1:12. Little children, let us not love in word or talk but in deed and in truth.  By this we shall know that we are of the truth and reassure our heart before Him; for whenever our heart condemns us, God is greater than our heart, and he knows everything.   I John 3:18-20.
O, Lord God, may we come before God as little children with open hearts. Help us love one another as God loves us.  Humble our hearts and hunger for righteousness. In the Name of Jesus, I pray. Amen.
For the Lord is good; His steadfast love endures forever, and His faithfulness to all generations. Psalm 100:5.
Beloved, let us love one another, for love is from God, and whoever loves has been born of God and knows God. Anyone who does not love does not know God, because God is love. I John 4:7-8.