November 23, 2020 – Titus 2:3-5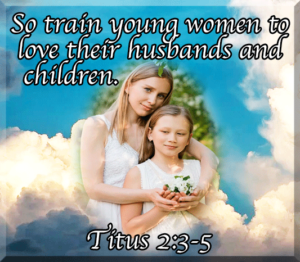 Older women likewise are to be reverent in behavior, not slanderers or slaves to much wine. They are to teach what is good, and so train the young women to love their husbands and children, to be self-controlled, pure, working at home, kind, and submissive to their own husbands, that the word of God may not be reviled. Titus 2:3-5.
When breakfast burns, your child becomes ill, and nothing seems right, it is God calling you to a new beginning.  Finally, brothers, whatever is true, whatever is honorable, whatever is just, whatever is pure, whatever is lovely, whatever is commendable, if there is any excellence, if there is anything worthy of praise, think about these things.What you have learned and received and heard and seen in me—practice these things, and the God of peace will be with you. Philippians 4:8-9. 
An older woman in the faith brings nurture and guidance with understanding of the power of God to live in righteousness.  The Presence of God in the way we live and love brings His Joy and peace.
Dear Lord God, may I delight in Your Word and righteousness.  For there I will find peace.  Teach me your wisdom and may my words and thoughts be my focus this day.  In Jesus' Name, I pray, Amen.
We teach others by the way we live and respond to life each day. Delight yourself in the Lord,
and He will give you the desires of your heart. Psalm 37:4.
For the grace of God has appeared, bringing salvation for all people, training us to renounce ungodliness and worldly passions, and to live self-controlled, upright, and godly lives in the present age, waiting for our blessed hope, the appearing of the glory of our great God and Savior Jesus Christ, who gave himself for us to redeem us from all lawlessness and to purify for himself a people for his own possession who are zealous for good works. Titus 2:11-14.