November 1, 2017 – Romans 8:10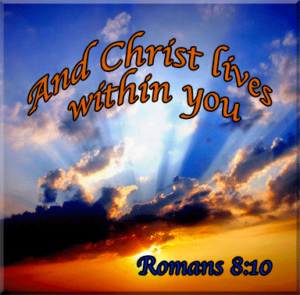 And Christ lives within you, so even though your body will die because of sin, the Spirit gives you life because you have been made right with God. Romans 8:10.
The lyrics, No man is an island, No man stands alone –  is more true than the song writer knew. When we know God, the Spirit of God lives within us and it gives us life.
We are not our own. You can make many plans, but the Lord's purpose will prevail. Proverbs 19:21.  One of the Psalms is so true. O Lord my God, you have performed many wonders for us.
Your plans for us are too numerous to list. You have no equal. If I tried to recite all your wonderful deeds, I would never come to the end of them. Psalm 40:5.
The same Power, the Spirit of God, raises me to new life now and when I die because of His Amazing Love.  Often I think of the lyrics from the Heritage singers that begins…Is it any wonder that I love Him when you consider all He's done for me? And is it any wonder that I want to do His will and let His light shine out for all to see? And is it any wonder that I praise him each time I think of how He's set me free? And is it any wonder that I've given Him my heart, When Jesus freely gave His life for me?
We are born wanting life. Some of us never find it. We turn from God and leave Him out, and His Son, Jesus Christ and His Amazing Love.  Life or Death is our choice.  I choose Life!
The Spirit of God, who raised Jesus from the dead, lives in you. And just as God raised Christ Jesus from the dead, he will give life to your mortal bodies by this same Spirit living within you. Romans 8:11