May 5, 2020 – James 5:7-10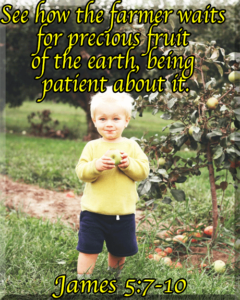 Be patient, therefore, brothers, until the coming of the Lord. See how the farmer waits for the precious fruit of the earth, being patient about it until it receives the early and the late rains. You also, be patient. Establish your hearts, for the coming of the Lord, is at hand. Do not grumble against one another, brothers, so that you may not be judged; behold, the Judge is standing at the door. As an example of suffering and patience, brothers, take the prophets who spoke in the name of the Lord. James 5:7-10. 
Patience is required for a farmer to wait for his fields of wheat to ripen. One year in the fall, we visited my Uncle's Oklahoma farm. My Dad said the wheat was ready for harvest.  I walked into the field of wheat, as tall as me. The ripe wheat rippled in the breeze.
My uncle, steadfast in his farming, prepared the soil, and waited for the day of harvest. Job was patient even when he lost his family and his wealth. "The Lord gave, and the Lord has taken away; blessed be the name of the Lord."  Job 1:21b.  
Trust in the Lord with all your heart, and do not lean on your own understanding.  In all your ways acknowledge Him, and He will make straight your paths.  Proverbs 3:5-6.
For the word of the Lord is upright, and all His work is done in faithfulness. He loves righteousness and justice; the earth is full of the steadfast love of the Lord.  Psalm 33:4-5.
Wait for the Lord; be strong, and let your heart take courage; wait for the Lord! Psalm 27:14
Behold, we consider those blessed who remained steadfast. You have heard of the steadfastness of Job, and you have seen the purpose of the Lord, how the Lord is compassionate and merciful.  James 5:11.