March 30, 2017 – Revelation 21:5-6
And the one sitting on the throne said, "Look, I am making everything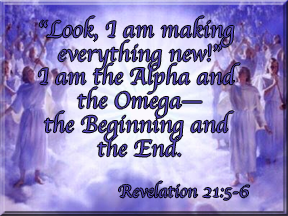 new!" And then he said to me, "Write this down, for what I tell you is trustworthy and true." And he also said, "It is finished! I am the Alpha and the Omega—the Beginning and the End. To all who are thirsty I will give freely from the springs of the water of life." Revelation 21:5-6
John, the Apostle of Jesus Christ, was taken to the Isle of Patmos until his death.  God revealed what will be at the end of time to John and instructed him to write these words.  God preserved these writings for us to read. Although much is a mystery to our minds, the Glory of God shines from these words.
God declared, "It is finished!" God's work is finished in bringing His children home. One 6th grader asked me where God came from.  I  read Genesis 1:1 to the boy.  In the beginning, God created the heavens and the earth.  Then I repeated the first four words – In the beginning, God!
When I was growing up, my Dad always went to the front door and locked the door every night.  That signaled the end of the day.  It was the Alpha and Omega of the day — God will one day close the door at the end of Time.
When we are thirsty, we get a drink. When we are troubled we thirst for peace and joy. There is only One who satisfies. It is the One who gives freely the living water filling us with His Love.  What lies ahead for us? Victory or defeat?  When we find satisfaction from God, we inherit His blessings for an eternity. For we will be His children –  the One who lives from the beginning to the end.  The One who created us and chose us!
All who are victorious will inherit all these blessings, and I will be their God, and they will be my children. Revelation 21:7