March 26, 2022 – Reflection on "Pleasing to God!"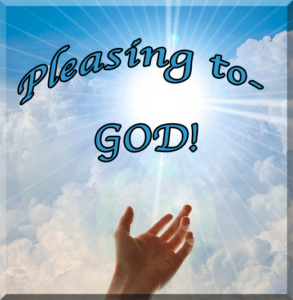 He has told you, O man, what is good? And what does the Lord require of you but to do justice, and to love kindness, and to walk humbly with your God? Micah 6:8.
         The more we resemble Jesus in the way we live, the more we please God. God told His Son, Jesus, how pleased He was in Matthew. And when Jesus was baptized, immediately He went up from the water, and behold, the heavens were opened to Him, and He saw the Spirit of God descending like a dove and coming to rest on Him; and behold, a voice from heaven said, "This is my beloved Son, with whom I am well pleased." Matthew 3:16-17.
How may I learn how to live like Jesus? Micah 6:8 talks about justice, being kind, and showing humility. The prayer Jesus prayed in the Garden prior to the crucifixion shows the mindset of Jesus. "Father, if you are willing, remove this cup from me. Nevertheless, not my will, but yours, be done." And there appeared to Him an angel from heaven, strengthening Him.
How does this kind of relationship begin? The lyrics of this Praise Hymn tells us.
     How deep the Father's love for us, How vast beyond all measure.
     That He should give His only Son, To make a wretch His treasure. (Townend)
         This means forgetting ourselves and knowing God is first in our lives. We often want to be independent, thinking of our own way of living, is the way to go. We lose sight of the truth that God created the universe, and us, too. He is more in every way than we are. We pride ourselves on doing things independently of God. Realizing that humility is the pathway to wisdom changes the direction of our lives. When pride comes, then comes disgrace, but with the humble is wisdom. Proverbs 11:2.
Jesus often withdrew to a quiet place and prayed. He healed the lame, the blind, and the demon possessed. He changed the water to wine, walked on water, and calmed the stormy sea. Jesus shared the goodness of His Father God's Love with His disciples. He fed the five thousand and taught them God's Way. There was no sin in Him.
In the Lord's Prayer, Jesus taught His disciples, and we understand more clearly the relationship of the Father God and the Only Son Jesus.
         "Our Father in heaven, hallowed be your name. Your kingdom come, Your will be done, on earth as it is in heaven. Give us this day our daily bread, and forgive us our debts, as we also have forgiven our debtors. And lead us not into temptation, but deliver us from evil. For if you forgive others their trespasses, your heavenly Father will also forgive you, but if you do not forgive others their trespasses, neither will your Father forgive your trespasses." Matthew 6:9-15.
         When we truly love someone, we want to please them. At the end of my husband's life, he asked me if I had everything I needed. When I answered in the affirmative, he responded, "I always just wanted to take care of you!"
This declaration is what Jesus would say as we come to the end of our lives.
The first part of the Lord's Prayer begins with Hallowed be Your Name. In another place are these words. You shall not take the name of the Lord your God in vain, for the Lord will not hold him guiltless who takes his name in vain. Deuteronomy 5:11.
While reading the 'creative' writing of some high school students, they assured me that the colorful language in taking the Lord's Name is creative! Instead, it is a lack of vocabulary. How can we know the right way to go in this world?
Blessed is the man who walks not in the counsel of the wicked, nor stands in the way of sinners, nor sits in the seat of scoffers; but his delight is in the law of the Lord, and on His law, he meditates day and night. Psalm 1:1-2. And we ask, what is our 'delight' in this world when the world beckons us?
First, there is believing and faith. And without faith, it is impossible to please Him, for whoever would draw near to God must believe that He exists and that He rewards those who seek Him. Hebrews 11:6.
Second, comes knowing the commands… All law rests on these two commandments – And He said to him, "You shall love the Lord your God with all your heart and with all your soul and with all your mind. This is the great and first commandment. And a second is like it: You shall love your neighbor as yourself." Matthew 22:37-39.
Third, learn to trust the Way of the Lord God. Trust in the LORD and do good; dwell in the land and befriend faithfulness. Psalm 37:3.
Fourth, Trust in the Lord, and do good; dwell in the land and befriend faithfulness. Psalm 119:15.
Promises from the Holy Bible that make our hearts sing:  For I am sure that neither death nor life, nor angels nor rulers, nor things present nor things to come, nor powers, nor height nor depth, nor anything else in all creation, will be able to separate us from the love of God in Christ Jesus our Lord. Romans 8:38-39.
You make known to me the path of life; in your presence there is fullness of joy; at your right hand are pleasures forevermore. Psalm 16:11.  Fear not, for I am with you; be not dismayed, for I am your God; I will strengthen you, I will help you, I will uphold you with my righteous right hand. Isaiah 41:10.
For God gave us a spirit not of fear but of power and love and self-control. 2 Timothy 1:7.  For we are His workmanship, created in Christ Jesus for good works, which God prepared beforehand, that we should walk in them. Ephesians 2:10.
Let us hold fast the confession of our hope without wavering, for he who promised is faithful. Hebrews 10:23.  Once we have entered a spiritual relationship with God, we desire to live in ways that honor and delight Him.