God Means for Us to Be Where We Are!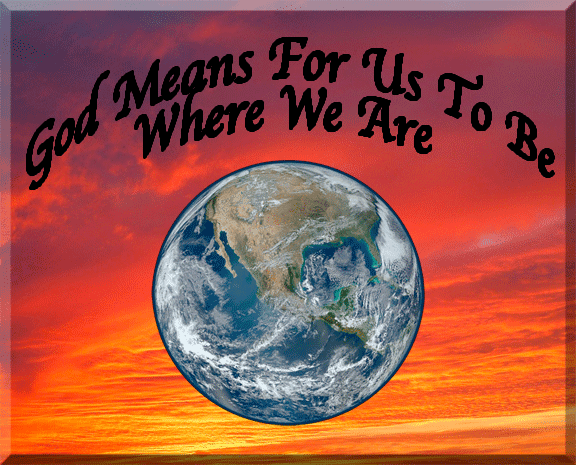 The
complacent rocking-chair of life invited us to take a snooze through the
'golden years.' We settled into an easy-going pattern of living in our
town. And then life changed.

My husband asked me to take over writing the checks to pay monthly bills.
One day he tried to drive home from church alone. He recognized his difficulty
in keeping the car on the road and gave me the keys to the car. Life
transformed into one I no longer recognized.

I arranged to move us near to our son's home. Five months later, with the
help of our four children and their spouses, we left for a new location, a new
life, a new church family, and an unknown way of living. I recall backing
out of the driveway. Our home for thirty-three years was no longer
'home.' I didn't look back.

In our new home, I slowly 'settled in' to a new routine, different goals, and
learned my way around the larger city. New neighbors, new doctors, and a
new church family were some changes.

For six years, I focused on caring for my husband and recalled the moments when
he begged to 'go Home'. He lost his balance and fell, he lost his sight,
could no longer walk, and he could no longer feed himself. My son and I moved
him to a nursing home at ninety-one when I could no longer care for him
safely.

One Lord's Day, a year after my husband's passing, God provided a recognition
me with the clarity and significance of my reality, as our minister spoke about
God's guidance and His deliverance of the Children of Israel. The
Children of Israel crossed the Red Sea. He mentioned a book called, The Red
Sea Rules.

I still searched for a way to serve others and feel at home. I read
Robert J. Morgan's book and the first rule caught my attention. During
our married life, we moved ten times. And moving to be closer to our son,
and the eleventh move is here. Why?

Never once did I think about the story in Exodus of the Children of Israel
during any of our moves. It continued to be a story. Yet each story in
the Bible is a message from God. I read Exodus 14:18, and these words
spoke to me. And the Egyptians shall know that I am
the Lord, when I have gotten glory over Pharaoh, his chariots, and
his horsemen.

God
has a purpose in our lives for unexplained illnesses, deaths, separations, and
happenings – our Red Sea experiences. These are not random but
in God's planning for us. I learned that moving somewhere else is not
about 'settling in,' but to an awakening. When we awaken to the where, why, and
how God leads us, there is a purpose and our days are filled with understanding
and purpose.

We realize God means for us to be where we are for His Purposes.
We
learn where each light switch is. We learn to know where to shut off the
water. We learn how to choose a doctor, and where the grocery store
is. But each new learning provides an understanding of how God provides.

The sweetest moment happened the first Sunday I attended our new church
home. I sat in Windsor Road Christian Church Sanctuary, surrounded by
strangers. Then the Lord gave me peace. I realized all these people
are His children, too, and love my Jesus. I am at home and marvel at the wonder
of the Love of our Lord God with every breath I take.

Each story of those who conquer evil and see His
righteousness brings joy and excellent praise to those who love Him. Let
all the earth fear the Lord; let all the inhabitants of the world
stand in awe of Him! Psalm 33:8.
You are the God who works wonders; You have made known Your might among
the peoples.
Psalm 77:14.
Some trust in chariots and some
in horses,
but we trust in the name of the

Lord

our God.
Psalm
20:7.
The

Lord

is my strength and my
shield;
in Him my heart trusts, and I am helped;
my heart exults,
and
with my song I give thanks to him.
Psalm 28:7.
And we know that for those who love God all
things work together for good, for those who are called
according to his purpose.

Romans 8:28
-->
Thus, the

Lord

saved
Israel that day from the hand of the Egyptians, and Israel saw the Egyptians
dead on the seashore.
Israel saw the great
power that the

Lord

used
against the Egyptians, so the people feared the

Lord

, and they believed in the

Lord

and in his servant Moses.
Exodus
14:30-31.
Comments? eacombs@att.net