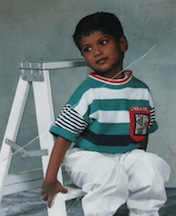 A little
boy said goodbye to his mother and he was brought to an orphanage in
Pune. His mother suffered from tuberculosis and did not expect to
live. This was her sacrificial act for her son, there was no one
else to care for him. Her gift to her son was the chance of a gift of
life.
A young
couple and their three daughters, one adopted from India, in America
looked at the pictures on the coffee table of little boys. Which one
would they choose. They were drawn to the photo of Santosh.
Arrangements were made with the orphanage and the small boy, almost
four years old, flew in an airplane from India to America with a
person from the orphanage. It was a long trip for a little boy,
before he even knew what 'goodbye' meant.
At the
end of the flight, the young couple met the plane. It had been a
waiting time filled with concern and prayer. The money for the
adoption, the choice of Santosh, the preparation for a little boy,
who would soon arrive created the need for trusting God. So many
unknowns, and then they held Santosh, a small brown-eyed mischievous
little boy. They were a family.
What did
Santosh think of his light-skinned parents, his two blonde sisters,
and Rebekah, who reflected his darker skin and brown eyes? Santosh's
new father wrote an article about Lavasatha's legacy
(http://apayne.com/totallypaul/?p=129)
Paul wrote:
O
ne
of my favorite passages of the Bible is from Proverbs, "A man plans
his steps, but the Lord directs his path." As I look back almost 21
years ago, I can see God using a little boy to direct my path in a
way I could never have foreseen
.
Not only
was Santosh's life forever changed forever, but Paul and Carolyn's
and their family, and Santosh's new uncles, aunts, cousins and
grandparents' lives. During the first visit to his Arkansas
grandparents' home, he still remembered life in India….and
pretended to eat dirt from a tub because of the hunger he remembered.
He loved green grapes, and through subsequent visits he learned to
play checkers with Grandma. On one visit, he went to Grandma Daisy's
house and saw the wild rabbits that tried to eat her garden.
Eighteen years later, he still remembers her excitement of showing
Santosh the rabbits.
There
was never a question from either Santosh or his grandparents as to
their relationship and love. Adoption simply means a choice of love
from all concerned. Santosh's new parents raised Santosh to love
Jesus and to pray and to trust in Him.
When
Santosh was 10 years old, he came to his grandparents' home and said
he wanted to be baptized into Jesus. His Grandpa baptized him in the
Rogers Christian Church baptistery. The faith of Santosh deepened
and he delighted in discipline, telling others his story, enduring
racial taunts from classmates and learning the nuances of a new
language. He overflowed with love and concern for others. He loved
taking a tray of food to Grandma Daisy and listening to her stories.
At one point, he gave his Grandma one of his stuffed animals to
keep….a rabbit.
Santosh
delighted in working and being busy. He attended a Bible College in
Montana for a year. He plays the guitar and a bit of piano. Then he
left home, working in construction, shingling roofs. He attends a
church and trusts in God. He decided to come this year to see his
transplanted Arkansas grandparents. It has been many years – and
as we ate green seedless grapes, he told us of his adventures and his
life. He is twenty-two years old now and a man.
We
enjoyed Thanksgiving Dinner with our son, Tim and his family. Ben
stayed to visit with his cousins. Then we 'skyped' his cousins in
California. He enjoyed visiting with family and being with family
for Thanksgiving Day. At the end of the day, I asked him what he is
most thankful for. He said without hesitation – family.
He
continued, I am thankful for being a Combs, and for family and all
that means. He left the next morning at 5:30 am, and as he drove, he
thought about family and wrote this poem:
It
is strange to watch the time fly Before our very eyes, Which reminds
me of the blessing, That we have you in our lives.
To have yet to
feel the touch That's as gentle as your hand The closeness of our
family One could never understand.
As each of our lives Continue
to change, Reflections of your love In each of us remains.
You
have pointed out the path And led us along the way;
The wisdom you
have planted, We each still hold today.
You sheltered us through
childhood And saw us through today, Taught us of the Lord above,
About faith, and how to pray.
One day we'll all be in heaven
Dancing on the throne, Praising God for giving us A family like we've
never known.
I love my family…
As I
read this poem, my heart welled up inside me for that little boy who
lost his family and God blessed him, and us, with belonging to our
family….Benjamin Paul-Santosh Combs!
That is
exactly what belonging to Jesus is all about. We are lost, adrift in
this world, and then we are adopted through Jesus into the Family of
God. No matter what happens in our lives each day – it is the
belonging to that Family that gives us hope and never-ending love.
Through this adoptive family we acquire brothers and sisters – a
loving, supportive family.
It is a
legacy that began in the heart of God. There are so many 'what-ifs'
that it isn't 'happen-chance' – it is God's planning through the
legacy of Lavasatha that we have Benjamin. Paul writes, "Lavasatha's
legacy in our family is the new life he brought us. He opened our
hearts to adopt from India. And he opened our hearts to the many,
many children in the world who are alone, heartbroken and in need of
someone to care."
What
is in Benjamin's future? That is in the hands of God and in the
heart of Benjamin.
–
May he defend the afflicted among the people and save the children of
the needy; may he crush the oppressor. Psalm 72:4
–
Your love, LORD, reaches to the heavens, your faithfulness to the
skies. Psalm 36:5
–
As a father has compassion on his children, so the LORD has
compassion on those who fear him. Psalm 103:13
Comments? eacombs@att.net