December 6, 2019 – Ecclesiastes 3:11-13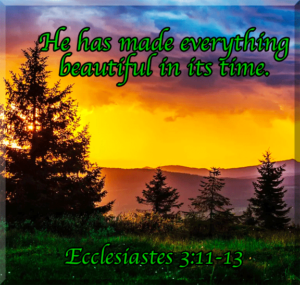 He has made everything beautiful in its time. Also, He has put eternity into man's heart, yet so that he cannot find out what God has done from the beginning to the end. I perceived that there is nothing better for them than to be joyful and to do good as long as they live; also that everyone should eat and drink and take pleasure in all His toil—this is God's gift to man. Ecclesiastes 3:11-13.
The first thing that draws me to this scripture are the preceding verses – 'a time to be born, and a time to die, a time to mourn, and a time to dance, a time to keep silence, and a time to speak.'  And He has made everything beautiful in its time. We cannot understand the ways and the thinking of God.  We simply stand in awe of all God has done. 
Such a difference between God and Man is brought to light when we see what God does lasts and Man's pursuits do not. What is the motivation for God's plans?  His steadfast love,  and His plan for our redemption through the sacrifice of His Son Jesus Christ.
For each breath I take, and each praise I lift, with each answered prayer I receive, I sing with the angels, as they sang on the night of His birth. "Glory to God in the highest, and on earth peace among those with whom He is pleased!" Luke 2:14. I echo with Mary, "Behold, I am the servant of the Lord; let it be to me according to your Word." Luke 1:38.
I perceived that whatever God does endures forever; nothing can be added to it, nor anything taken from it. God has done it so that people fear before him. That which is already has been; that which is to be already has been, and God seeks what has been driven away. Ecclesiastes 3:14-15.