December 28, 2018 – Matthew 2:1-3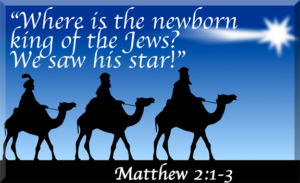 Jesus was born in Bethlehem in Judea, during the reign of King Herod. About that time some wise men from eastern lands arrived in Jerusalem, asking, "Where is the newborn king of the Jews? We saw his star as it rose, and we have come to worship him." King Herod was deeply disturbed when he heard this, as was everyone in Jerusalem. Matthew 2:1-3.
Not long after Jesus was born, magi or wise men from the East, traveled to Jerusalem and asked where is this newborn, the King of the Jews?  Soon King Herod heard about their questions.  King of Jews?  He felt threatened.  The Jews knew about the prophecy about the Ruler, who would come.  Herod asked for a secret meeting to question these wise men. 
The wise men again saw the star to lead them to where Jesus lay.  They gave gifts of gold, frankincense, and myrrh. (Myrrh is used for embalming, and Jesus was born to die.)  The wise men returned home a different way.
A messenger from the Lord told Joseph to flee to Egypt with Mary and baby Jesus until Herod died. Meanwhile Herod killed all baby boys under 2 years, to protect his 'kingship.'
The Lord is my Rock, my Fortress, and my Savior; my God is my Rock, in whom I find protection.  Psalm 18:2a
Then Herod called for a private meeting with the wise men, and he learned from them the time when the star first appeared. Then he told them, "Go to Bethlehem and search carefully for the child. And when you find him, come back and tell me so that I can go and worship him, too!" After this interview, the wise men went their way. And the star they had seen in the east guided them to Bethlehem. It went ahead of them and stopped over the place where the child was. When they saw the star, they were filled with joy! Matthew 2:7-10.