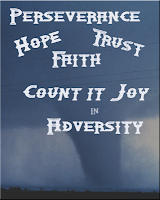 Adversity is dressed in many shades of gray. The colors are shades of anguish, calamity, misery, misfortune, trial and tribulation. So many shades of gray threaten us. The colors foster groans and tears from the heart. Adversity, no matter what shade of darkness captures us, causes us to stop in our tracks. Adversity shakes our very foundation of life. We cry out in pain. We cry out in frustration. We long for what once was.
Questions arise as we try to free ourselves from the adversity that has captured us. How long? Is there a way out? Whose fault is it? Then comes the anger, grumbling and the whining…. How could this happen to me? Whose fault is it? No one is immune to our questioning when we are suffering, not even God.
One unknown author wrote – We have no right to ask when sorrow comes, "Why did this happen to me?" unless we ask the same question for every moment of happiness that comes our way.
Then the words from James seem grating – Consider it pure joy, my brothers and sisters, whenever you face trials of many kinds. James 1:2
Recently the city of Joplin was shaken to its core by a tornado. Destruction of human life and of property crowds the landscape. Those who went to help come away, not with questions, but with a new awareness of the preciousness of life and peaceful living. Workers encountered sunburn and extreme physical exhaustion and sacrifice as they worked for hours along side the survivors. Strangers became friends.
More importantly there is an emotional shaking. An understanding that 'this world is not our home, we are just passing through." This is when reliance on faith in the Only One who can save us, is most important to our lives here. As recorded and played often in the media, is the cries of one man during the tumult of the tornado – Jesus, Jesus, Jesus. He knew.
After an email from my cousin, that directed me to the hospital to show support to his friend, I saw the tragedy of one family. A young couple, injured in the tornado, were sent to our local hospital. As I learned their story from the mother, I heard a terrifying story of a young couple that were transported by the tornado from the bathroom in their home to fly through the air and receive so many injuries that required more than a band-aid. Their story will continue to be one of intense pain and struggle. Yet I heard hope through tears. I heard joy through the pain. I heard faith in God. How can that be? When the father sent emails, he began with praise and thankfulness, from one of my favorite songs, "Oh what a beautiful morning…" to "This is the day, this is the day that the Lord hath made. Rejoice and be glad in it."
I remembered many times when there was pain in our lives…. the death of a twin brother to Dan, on a Kansas form, huddled in the a concrete barn in our car with three little ones as a tornado flew so nearby, living in New Harmony and the coal furnace exploded filling the air with coal soot and we tried to protect our four little ones. The deaths of my husband's parents. Sitting by my Dad's bedside as he drew his last breath, the four last years when Mom gradually approached death. When Mom's last moments came, I read Psalms to her as she took her last breath.
Psalm 37:3-7, 18-19 was one of her favourites – Trust in the LORD and do good; 
 dwell in the land and enjoy safe pasture. 
Take delight in the LORD, and he will give you the desires of your heart. Commit your way to the LORD; trust in him and he will do this: He will make your righteous reward shine like the dawn, your vindication like the noonday sun. Be still before the LORD and wait patiently for him; 
do not fret when people succeed in their ways when they carry out their wicked schemes. The blameless spend their days under the LORD's care, and their inheritance will endure forever. In times of disaster they will not wither; in days of famine they will enjoy plenty.
The words in James 1:3-6 explains counting it pure joy – because you know that the testing of your faith produces perseverance. Let perseverance finish its work so that you may be mature and complete, not lacking anything. If any of you lacks wisdom, you should ask God, who gives generously to all without finding fault, and it will be given to you. But when you ask, you must believe and not doubt, because the one who doubts is like a wave of the sea, blown and tossed by the wind.
Faith produces perseverance – Perseverance produces maturity. Ask for wisdom.
A friend told me about the 67th book of the Bible. I know there are only 66 books, and I wondered what the 67th book could be. The 67th book is the book that all who knows us read…. others watch how we handle pain and diversity. Are we faithful? Do we trust God? It is our testimony to our faith and to the Lord Jesus Christ.
We are in constant change, transition, on this earth. Nothing remains the same. We see this daily. Yet we are tempted to live as if we live forever. As the Lord prepares me, I hear verses such as….I Peter 4:7-8. With these two verses, I can be the 67th book for others, as my parents were before me. I can be at peace, as I trust Jesus. The end of all things is near. Therefore be alert and of sober mind so that you may pray. Above all, love each other deeply, because love covers over a multitude of sins
I count it all pure joy…
Comments? eacombs@att.net