February 17, 2020 – Psalm 36:5-6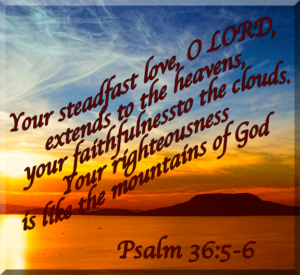 Your steadfast love, O Lord, extends to the heavens, Your faithfulness to the clouds. Your righteousness is like the mountains of God; Your judgments are like the great deep; man and beast You save, O Lord. Psalm 36:5-6.
Love, Faithfulness, and Righteousness!  Because God Loves, He is faithful and desires to save us.  The vastness of the skies and and the height of the mountains He created, provide the example to understand the awesomeness of our Lord.  The judgements of God are like the great deep. 
How precious is your everlasting Love.  He is patient and forgiving. There is no end to the Way He loves. We find refuge in the shadow of His wings. He will cover you with his pinions, and under his wings you will find refuge; his faithfulness is a shield and buckler. You will not fear the terror of the night, nor the arrow that flies by day Psalm 91:4-5.
For everyone who has been born of God overcomes the world. And this is the victory that has overcome the world—our faith.  Who is it that overcomes the world except the one who believes that Jesus is the Son of God? This is he who came by water and blood—Jesus Christ; not by the water only but by the water and the blood. And the Spirit is the one who testifies, because the Spirit is the truth.  I John 5:4-6.
Now to Him who is able to do far more abundantly than all that we ask or think, according to the power at work within us. Ephesians 3:20.
How precious is your steadfast love, O God! The children of mankind take refuge in the shadow of your wings. They feast on the abundance of your house, and you give them drink from the river of your delights. For with you is the fountain of life; in your light do we see light. Psalm 36:7-9