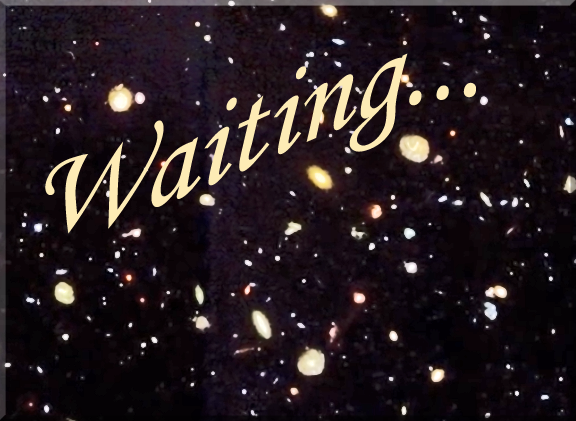 What is the secret to
waiting patiently?

Have you ever been
stuck in an endless line, tapping your foot?
Suddenly I have a picture in my mind of a long line, each person
tapping, and a 'Waiting Line Choreographer' appears and suddenly waiting is the
thing to do! It becomes a Flash Line Dance.
Others smile and catch the rhythm, whipping out their phones to snap
pictures.
Is there a college course in
The Art of Waiting?

The outline of the
course in Waiting includes Patience, Peace, Love, Joy, and Kindness. We are not
born with the ability to wait patiently.
There are thousands of moments when waiting is required in our
lives.

Those moments teach us to wait
for a purpose and realize that there are others who have purposes.

Playing Hide and Go Seek is a beginning of
learning.

I remember that
tingly-all-over feeling while I waited, wondering if I chose a successful
hiding place or not.

Then there is waiting
for supper, waiting for Christmas, waiting for a birthday, waiting to show Dad
my report card.

Waiting includes the
tingly-all-over feeling labelled Anticipation – either negative or positive.
A bride-to-be waits for the
appointed day to be happily married to her handsome groom.

A mother-to-be waits for the birth of her
child. The last several weeks seem endless.

Waiting during life and
death moments seems endless.

The dread
of change, separation from what is that cause a feet-in-molasses trudge through
time. Moments come into our lives, when a disease, a sickness or the end to a
surgery, then waiting seems endless.

Being alone compounds the helplessness of
waiting.

Change in our lives heightens
our senses and we long for peace and the freedom to laugh again.
Waiting is easier when there
is peace and sweet anticipation, not darkness and dread.
Recently I received this
link in my email and I read the numbers in astonishment.

http://www.flixxy.com/hubble-ultra-deep-field-3d.htm.

"We pointed the most powerful
telescope ever built by human beings at absolutely nothing, just because we
were curious, and discovered that we occupy a very tiny place in the heavens,"
the narrator says. When the Hubble Telescope is pointed at an "empty"
area of the sky, the images of over 10,000 galaxies appear in the telescope's
long-range view: Photons of these galaxies have traveled for 13 billion
years to record their images for us to see. (The graphic above is made by
capturing a photo from the video.)
I can imagine an impatient
galaxy wondering why it takes so long to travel just to be seen.

This is another example of waiting that God
has ordained.
He will come again, not
to deal with our sins, but to bring salvation to all who are eagerly

wait

ing for him. Hebrews 9:28b
The
portion – 'but to bring salvation to all
who are eagerly

wait

ing for
him' – gives us a purpose for waiting and the way to wait – eagerly.

Over and over the words we find the way to
wait. Patiently – Psalm 27:14; Quietly – Psalm 62:1,5; Weeping – Psalm 69:3;
Hopefully – Isaiah 8:17; Eagerly – Romans 8:19; Confidently – Romans 8:25, I
Corinthians 1:17, Philippians 3:20, Hebrews 9:28.
Then
what is it the purpose for which we are to wait patiently, quietly, weeping,
hopefully and confidently?

The Great Day
of Judgement – Jude 1:6; Lord's Return – James 5:7, Philippians 3:20, I
Corinthians 1:7; Salvation – Hebrews 9:28; Receive What God Promises – Hebrews
6:15, Romans 15:4, Romans 8:23; Righteousness – Galatians 5:5; Simeon waiting
for Messiah to come – Luke 2:25, Mark 15:43; Salvation/Save – Micah 7:7,
Lamentations 3:26, Isaiah 51:5, Isaiah 33:2;

Hope – Psalm 62:5.
Suddenly, I know.
All of the ways that we wait are focused on one ultimate event, larger
and more wonderful than we will ever experience. Learning to Wait in a lifetime is a picture
of eagerly awaiting the second coming of Jesus Christ. I love the verse in Acts 1:11,
"Men of Galilee," they said, "Why are you standing here
staring into heaven? Jesus has been taken from you into heaven, but someday he
will return from heaven in the same way you saw him go!"
Our one purpose here on earth is to live and wait for that
moment. We do not know the hour or time,
but we are awaiting His coming. We are
prepared through a steady growing faith and trust in the One and Only
Jesus. Our thoughts and actions are
motivated by his sacrifice on the cross because of His continuous love for us. No one can take His Place in our hearts. We will be faithful to the end to the one who
loves us unconditionally when we choose Him.
None other, just Jesus.
Our waiting
brings that tingly, expectant watching, when we read Mark 14:62…Jesus said,
"I AM. And you will see the Son of Man seated in the place of power at God's
right hand and

coming

on
the clouds of heaven."
His
grace, freely given contains forgiveness, covering of our sins and the promise
of eternal life.

No one but Jesus lives
on the right hand side of God.

No wonder
we sing – praises to our King.

In the
anticipation of the end of waiting, no world enticement can take His place or
give us so much to live…eternally with him.
Every
time I am forced to wait, and wonder why, I remember that waiting strengthens
Peace and Patience in anticipation of Joy in that great day of the Lord!
• And so, dear friends, while you
are

wait

ing for these
things to happen, make every effort to be found living peaceful lives that are
pure and blameless in his sight. II Peter 3:14
• Dear brothers and sisters, be patient
as you

wait

for the
Lord's return. Consider the farmers who patiently

wait

for the rains in the fall and in the spring. They
eagerly look for the valuable harvest to ripen. James 5:7
• So also Christ died once for all time
as a sacrifice to take away the sins of many people. He will come again, not to
deal with our sins, but to bring salvation to all who are eagerly

wait

ing for him.

Hebrews 9:28
• But we are citizens of heaven, where
the Lord Jesus Christ lives. And we are eagerly

wait

ing for him to return as our Savior.

Philippians 3:20
Comments? eacombs@att.net