The Gift of Hope and Love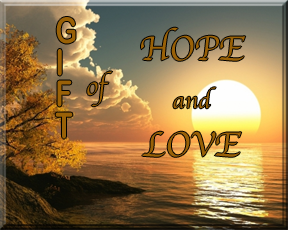 Have you ever received a gift that changed your life?

My friend has difficulty seeing the colors, reds and greens.

They looked more grey than red and green.

He could not differentiate the colors.

After he received his Enchroma Glasses, he sees with clarity those colors.

Imagine celebrating Christmas without being able to see red and green.

What a gift to be able to see clearly the wondrous colors God has created!
When I began painting, I really began to see shades of green are on just one tree. Green was no longer just green, I saw many gradients of green with shadows and light.
Flowers were no longer bits of color perched on a stem, with leaves here and there.

Suddenly I saw the varied shades of color and complex designs that made me gasp in awe.

The colors in the heavens defy imagination with velvet nights and the moon to vibrant sunsets and sunrises.

As a child, I chose single crayons to color this world: the sun is yellow, the grass is green and the sky is blue until I learned to see reality.
When I was a child, I spoke like a child, I thought like a child, I reasoned like a child. When I became a man, I gave up childish ways. For now we see in a mirror dimly, but then face to face. Now I know in part; then I shall know fully, even as I have been fully known. I Corinthians 13:11-12.
When I was introduced to Jesus through the song, Jesus Love Me…where all children begin my faith in Jesus..

We sang the song, Jesus Loves Me.

Even now, as an adult, this song is precious.
Jesus loves me! This I know,
For the Bible tells me so;
Little ones to Him belong;
They are weak, but He is strong.
Yes, Jesus loves me!
Yes, Jesus loves me!
Yes, Jesus loves me!
The Bible tells me so!
Little did I know then, but I was given the gift of love.

As I grew up, I learned that love is given impartially.

The gift of love grows as we learn to love. Pretty soon we learn what love is not and what love is.
Love is not holding grudges and harboring anger.

Love is not comparison, competing or belittling some one.

Love is not jealousy.

Love is forgiving, nurturing, sacrificing, caring and serving.
Where did love come from?

God.

God loves us so much that He gave us a gift, a way to live forever, through the sacrifice of His only begotten Son.

(John 3:16)

A glorious gift!
Love
is patient and kind. Love is not jealous or boastful or proud or rude. It does not demand its own way. It is not irritable, and it keeps no record of being wronged.
It does not rejoice about injustice but rejoices whenever the truth wins out.
Love
never gives up, never loses faith, is always hopeful, and endures through every circumstance.
God is Love – and when we commit to only to Him, there are more gifts as we receive the Holy Spirit.
Our God has a garden of gifts that bears fruit.

When we commit to love and follow only the Lord God, we soon are aware of these gifts that are a reflection of His love and His way in us.

We long for unity, we long for peace in this world.

Only through Jesus Christ's sacrifice and his unwavering love, will we see these gifts in our own lives when we worship only One God.
But the Holy Spirit produces this kind of fruit in our lives: love, joy, peace, patience, kindness, goodness, faithfulness,
gentleness, and self-control.
There is no law against these things!
Those who belong to Christ Jesus have nailed the passions and desires of their sinful nature to his cross and crucified them there.
Since we are living by the Spirit, let us follow the Spirit's leading in every part of our lives. Galatians 5:22-25
The Holy Spirit produces this kind of fruit in our lives: love, joy, peace, patience, kindness, goodness, faithfulness,
gentleness, and self-control.
Have you ever known some one who lives this way?
These are eternal gifts!

This is how we will live in Heaven.

There is no fear in Heaven, no tears, no death, no sorrow.

When we are committed to our Lord God and faithful here on earth, we have the joy of hope for living forever.

We won't have guilt for past sins, for in the sacrifice of Jesus on the cross is forgiveness.

We don't live in the 'should have', 'might have' or 'ought to'.

Our life is filled with faith in Him who gives us hope through His tremendous continuing love.
We can trust again.

Cynicism is no longer a part of our lives because of so many betrayals from promises not kept.

There is no longer feeling of discouragement in our lives.

David knew this when he wrote: He will cover you with

his

feathers. He will shelter you with

his

wings

.

His

faithful promises are your armor and protection.

Psalm 91:4
Jesus told him, "I am the way, the truth, and the life. No one can come to the Father except through me. John 14:6
When we commit to follow after Christ Jesus, we began to have spiritual clarity and our lives begin to have purpose and meaning.

When we see through the glasses of faith, hope and love, our lives change in every respect.

And we give him the praise and glory for His never-ending goodness.
Three things will last forever—faith, hope, and love—and the greatest of these is love. I Corinthians 13:13
Comments? eacombs@att.net