October 4, 2019 – Psalm 119:89-91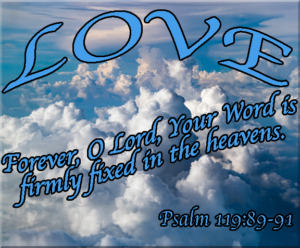 Forever, O Lord, your word is firmly fixed in the heavens. Your faithfulness endures to all generations; you have established the earth, and it stands fast. By your appointment, they stand this day, for all things are your servants. Psalm 119:89-91.
The heavens declare the glory of God, and the sky above proclaims his handiwork. Day to day pours out speech, and night to night reveals knowledge. There is no speech, nor are there words, whose voice is not heard. Their voice goes out through all the earth, and their words to the end of the world.  Psalm 19:1-4.  
When our Lord God created the Heavens and the Earth, He showed nothing but awesome splendor to us.   There is no end to the wonder of everything remaining in keeping with your laws just as you created them long ago.  All things are created to serve our Jehovah God.
Following your laws and meditating on them day and night makes makes us wise. Your word is a lamp to my feet and a light to my pathway. (vs 105) How sweet are your words to my taste, sweeter than honey to my mouth. (103).
And He said to him, "You shall love the Lord your God with all your heart and with all your soul and with all your mind.  This is the great and first commandment.  And a second is like it: You shall love your neighbor as yourself.  (Matthew 22:37-39) This is the teaching of the Son of God, Jesus.
Let my prayer be – Let my soul live and praise You, and let Your rules help me. Psalm 119:175.
Oh how I love your law! It is my meditation all the day. Your commandment makes me wiser than my enemies, for it is ever with me. I have more understanding than all my teachers, for your testimonies are my meditation. Psalm 119:97-99.