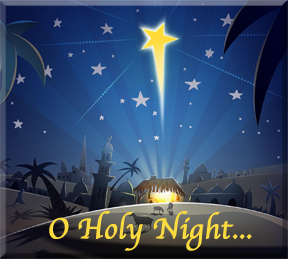 The Joy of Christmas is brought home to us when we celebrate the birth of Jesus, the gift of Love our Lord God gave us.

There is no other gift as precious as the birth of Jesus, for it is the gift of Life itself for each of us.

The birth of Jesus is the Gift that leads us Home to Eternal Life.
Families gather to celebrate Christmas, for Christmas is a time for being home.

Marjorie Holmes once said, "At Christmas, all roads lead home."

A family is tied together by blood. The Family of God is held together by love and the sacrificial blood shed for each of us by Jesus, Our Lord.
When we hear a Christmas Carol at Christmas, we are led through musical melodies and harmonies to the foot of the cross…we are drawn home.

The Carol, O Holy Night, this year brought memories of the joy in praising God.

This year the lyrics zinged straight into my heart as I realized more deeply the Joy presented to us so long ago, in the form of tiny baby boy, born to Mary.
The care in which God created a brilliant star that led the wise men, the chorus of angels who sang Peace on Earth announcing the birth to the shepherds in the field, God's safe keeping of Jesus –

all tell of the preciousness of the One and Only Son of God.
The words of O Holy Night were written in 1847 by Placide Cappeau de Roguemaure. He realized that they needed a melody…Adolphe Charles Adams is the composer.

O Holy Night lyrics were translated into English by John Sullivan Dwight.
On that night, most holy, God's will was accomplished when Jesus came to this earth directly from Heaven.
†-

Everyone who believes that

Jesus

is the Christ has been

born

of God, and everyone who loves the Father loves whoever has been

born

of him.
I John 5:1
†-
If anyone hears my words and does not keep them, I do not judge him; for I did not come to judge the world but to save the world.
John 12:47.
†-

Through him we have also obtained access by faith into this grace in which we stand, and we rejoice in

hope

of the glory of God. Romans 5:2
O holy night the stars are brightly shining
It is the night of our dear Savior's birth
Long lay the world in sin and error pining
Till He appeared and the soul felt its worth
A thrill of hope the weary world rejoices
For yonder breaks a new glorious morn.
†-

Now after Jesus was born in Bethlehem of Judea in the days of Herod the king, behold,

wise

men

from the east came to Jerusalem.

For we saw his star when it rose and have come to worship him. Matthew 1:1-2.
†-

No longer do I call you servants, for the servant does not know what his master is doing; but I have called you friends, for all that I have heard from my Father have made known to you.
John 15:15
Led by the light of Faith serenely beaming
With glowing hearts by His cradle we stand
So led by light of a star sweetly gleaming
Here come the wise men from Orient land
The King of kings lay thus in lowly manger
In all our trials born to be our friend.
†-

A new commandment I give to you, that you

love

one

another

: just as I have

love

d you, you also are to

love

one

another

. By this all people will know that you are my disciples, if you have

love

for

one

another

. John 13:34-35.
†-

Sing

praise

s to the

Lord

, O you

his

saints, and give thanks to

his

holy

name

. Psalm 30:4
Truly He taught us to love one another
His law is love and His gospel is peace
Chains shall He break for the slave is our brother
And in His name all oppression shall cease
Sweet hymns of joy in grateful chorus raise we,
Let all within us praise His holy name.
†-
And suddenly there was with the angel
a multitude of the heavenly host praising God and saying,
"Glory to God
in the highest,
and on earth
peace
among those with whom he is pleased!" Luke 2:13-14,
†-
Humble
yourselves before the Lord, and he will exalt you.
James 4:10

Fall on your knees, O hear the angels' voices
O night divine, O night when Christ was born
O night divine o night, O night divine.
May God bless you and yours this beautiful Christmas as you worship Christ Jesus.
If you have the ability to click on this website, you will hear the blessing of O Holy Night, sung with all praise and joy to our Lord Jesus….
http://faithtap.com/2206/home-free-o-holy-night/


Comments? eacombs@att.net