November 9, 2018 – Isaiah 45:3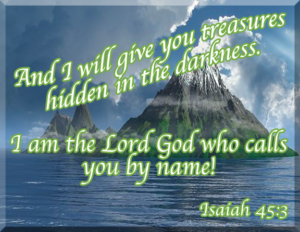 And I will give you treasures hidden in the darkness— secret riches. I will do this so you may know that I am the Lord, the God of Israel, the one who calls you by name. Isaiah 45:3.
What treasures are hidden from us?  This darkness where our riches are hidden is the lack of awareness of just Who is The Lord of our lives and our world.  
We are made in His Image – He readies us for battle against The Evil One.  His banner of truth and righteousness unfurls before me. He creates light and He knows my name.  
 There is no place I can hide from our Lord God. "Can anyone hide from me in a secret place? Am I not everywhere in all the heavens and earth?" says the Lord.  Jeremiah 23:24.  
Open my eyes to see the wonderful truths in your instructions. Psalm 119:18.  It is when we know we are the created ones, we can give our heart to our Creator.  Hebrews 11 tells of those who knew and believe in a timeline of faith.  
By faith we understand that the entire universe was formed at God's command, that what we now see did not come from anything that can be seen. Hebrews 11:3.
Despite the clamor of our world, listen for His Voice.  "Be still, and know that I am God! I will be honored by every nation. I will be honored throughout the world." Psalm 46:10
I am the Lord; there is no other God. I have equipped you for battle, though you don't even know me, so all the world from east to west will know there is no other God. I am the Lord, and there is no other. I create the light and make the darkness. I send good times and bad times. I, the Lord, am the One who does these things. Isaiah 45:5-7.