November 15, 2022 – Reflections on "Justice, Kindness, and Humility!"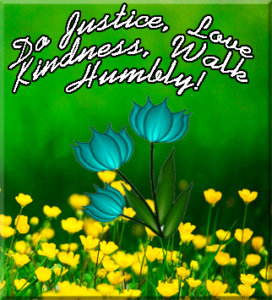 He has told you, O man, what is good? And what does the Lord require of you but to do justice, and to love kindness, and to walk humbly with your God? Micah 6:8.
         "And now, Israel, what does the Lord your God require of you, but to fear the Lord your God, to walk in all His ways, to love Him, to serve the Lord your God with all your heart and with all your soul, and to keep the commandments and statutes of the Lord, which I am commanding you today for your good?"
         Behold, to the Lord your God belongs heaven and the heaven of heavens, the earth with all that is in it. Yet the Lord set His heart in love on your fathers and chose their offspring after them, you above all peoples, as you are this day. Deuteronomy 10:12-15.
         In these last days, we are lovers of self, without self-control, and denying the power of God, without inquiring what pleases God, our Creator. (2 Timothy 3:1-7)
         We have heard of social Justice, being Kind if the price is right, and practicing Humility if it pleases us. God gave the ten commandments to the Children of Israel, but now we have two completely new commandments. Or are they? "You shall love the Lord your God with all your heart and with all your soul and with all your mind. This is the great and first commandment. And a second is like it: You shall love your neighbor as yourself." Matthew 22:37-39.
          The synonyms for Justice, includes Righteousness, Fairness, and Goodness. Doesn't loving your neighbor as yourself include Goodness?  Then I find, Blessed are they who observe justice, who do righteousness at all times! Psalm 106:3.
         Kindness is another word for loving others. Do nothing from selfish ambition or conceit, but in humility count others more significant than yourselves. Let each of you look not only to his own interests but also to the interests of others. Philippians 2:3-4.
          What does God require of us? Why did Micah choose Justice, Kindness, and walk Humbly with our Lord God? As obedient children, do not be conformed to the passions of your former ignorance, but as He who called you is holy, you also be holy in all your conduct, since it is written, "You shall be holy, for I am holy." I Peter 1:14-16.
       When Jesus prepared to be crucified in payment for our sins, He wanted His disciples to not feel alone. "If you love me, you will keep my commandments. And I will ask the Father, and He will give you another Helper, to be with you forever, even the Spirit of truth, whom the world cannot receive, because it neither sees Him nor knows Him. You know Him, for He dwells with you and will be in you. John 14:15-17.
        What gifts does the Holy Spirit, the Spirit of Truth, provide for those who seek Jesus? But the fruit of the Spirit is love, joy, peace, patience, kindness, goodness, faithfulness, gentleness, self-control; against such things, there is no law. Galatians 5:22-23. These all stem from Love, which brings Joy, which is His Peace, that enables patience, kindness, goodness, faithfulness, gentleness, and self-control. I Corinthians 13:2 tells us who I am without His Love. If I have the gift of prophecy and can fathom all mysteries and all knowledge, and if I have a faith that can move mountains,but do not have love, I am nothing.
         What is love? And do we really know how to love? This describes God LOVE. Love is patient, love is kind. It does not envy; it does not boast; it is not proud. It does not dishonor others; it is not self-seeking; it is not easily angered; it keeps no record of wrongs. Love does not delight in evil but rejoices with the truth. It always protects, always trusts, always hopes, always perseveres. Love never fails. I Corinthians 13:4-8.
         This becomes the way we can tell if we love God with all our hearts, soul, and minds, and our neighbor. Only when we open our hearts to God, can we see and hear the needs of others. And more than that, as the lyrics to the praise hymn, we sang on the Lord's Day, So, open my eyes, oh God. Open my heart to see, All the wonders and the power of Your name. (Morgen/Lang).
         Let all the earth fear the Lord; let all the inhabitants of the world stand in awe of Him! For He spoke, and it came to be. He commanded, and it stood firm. Psalm 33:8-9.
          From the beginning of the Bible, we can be sure of the wonder and awe. And God said, "Let there be light," and there was light. And God saw that the light was good. And God separated the light from the darkness. God called the light Day, and the darkness He called Night. And there was evening and there was morning, the first day. Genesis 1:3-5. His Son, Jesus, is the same yesterday and today and forever. And the last chapter of the Bible gives us this promise: "Surely I am coming soon." Amen. Come, Lord Jesus! Revelation 22:20.