November 12, 2019 – John 3:31-33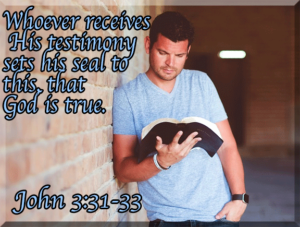 He who comes from above is above all. He who is of the earth belongs to the earth and speaks in an earthly way. He who comes from heaven is above all. He bears witness to what He has seen and heard, yet no one receives His testimony. Whoever receives His testimony sets His seal to this, that God is true.  John 3:31-33.
Either, Or? This or That? Life is filled with choices and decisions. Not making a choice is making a choice.  
We grew our own food since my parents both grew up on a farm. Harvest brought me an exercise in decision-making.  Dad dug up  the crop of white potatoes placing them in a pile five  feet high in the backyard. Mother sent me to sort potatoes.  Being about ten years old then, I could have used more instruction.  How big is big, and how little is little?  I muttered this over and over.
In our lives, we make decisions for what to live and what to believe. Will it be the world or will we live for God?  God sent His Son to bear witness of His Father.  When we choose to follow our own way, ignoring the testimony of Jesus of His Father, we have not chosen Life.   Choosing to believe in the God's Son, Jesus, we have eternal life.
 But to all who did receive Him, who believed in His name, He gave the right to become children of God. John 1:12
For He whom God has sent utters the words of God, for He gives the Spirit without measure. The Father loves the Son and has given all things into His hand. Whoever believes in the Son has eternal life; whoever does not obey the Son shall not see life, but the wrath of God remains on him.  John 3:34-36.