May 31, 2019 – Psalm 5:7-8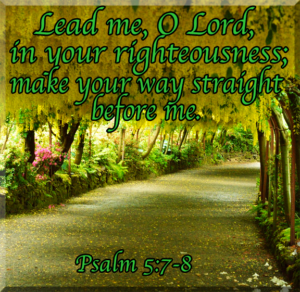 Because of Your unfailing love, I can enter Your house;  I will worship at Your Temple with deepest awe. Lead me in the right path, O Lord, or my enemies will conquer me. Make Your way plain for me to follow. Psalm 5:7-8.
I love You, O Lord, BECAUSE!  Because You First LOVED me.
With Your love comes the joy of being forgiven through Jesus Christ, strength when I am weak, and protection from the evil one.  Your Goodness provides a covering of blessings. You are my First and Dearest Friend.
No one can deter me the pathway in life You direct me. The Lord is my shepherd; I shall not want. He makes me lie down in green pastures.
He leads me beside still waters. He restores my soul. He leads me in paths of righteousness for His name's sake. Psalm 23:1-3.
No matter where I go, You were there before me and You are with me. You comfort me through the night.  
As a deer pants for flowing streams, so pants my soul for you, O God.
My soul thirsts for God, for the Living God. Psalm 42:1-2.
Blessed are those who hunger and thirst for righteousness, for they shall be satisfied. Matthew 5:6.
Surely goodness and mercy shall follow me all the days of my life,
and I shall dwell in the house of the Lord forever.  Psalm 23:6. 
Because your Love, O Lord, brings us to the place where no hunger or thirst will attack us. A place where Jesus dwells forever and God wipes away every tear from our eyes. (Revelation 7)
But let all who take refuge in you rejoice; let them sing joyful praises forever. Spread your protection over them, that all who love Your name may be filled with joy. For You bless the godly, O Lord; You surround them with Your shield of love. Psalm 5:11-12.