May 25, 2020 – Psalm 139:14-15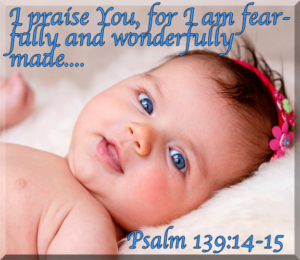 I praise you, for I am fearfully and wonderfully made. Wonderful are your works; my soul knows it very well. My frame was not hidden from you, when I was being made in secret, intricately woven in the depths of the earth. Psalm 139:14-15.
The wonder and delight in a new baby's countenance, as he learns something new, renews our awe and wonder of life.  We are part of the Wonder that begins in God's Love.  God loves us so, For you formed my inward parts; You knitted me together in my mother's womb. Psalm 139:13. 
He has made everything beautiful in its time. Also, he has put eternity into man's heart, yet so that he cannot find out what God has done from the beginning to the end.  I perceived that there is nothing better for them than to be joyful and to do good as long as they live. Ecclesiastes 3:11-12.
Why are we refreshed when we spend time in God's Creation?  The vast sea reminds us of the faithfulness of God's love. For your steadfast love is great above the heavens;  your faithfulness reaches to the clouds.  Psalm 108:4. 
Do you remember watching the clouds form and reform? Do you remember the nights you watched with awestruck wonder the stars in the night sky?
The wonder of drawing a breath, realizing air is God's creation!  The precious presence of our Lord God, knowing we are in His thoughts before we are born brings wonder and delight more brilliant than a sunset!
Your eyes saw my unformed substance; in your book were written, every one of them, the days that were formed for me, when as yet there was none of them. How precious to me are your thoughts, O God! How vast is the sum of them. If I would count them, they are more than the sand. I awake, and I am still with you. Psalm 139:16-18