May 21, 2019 – Luke 11:1-3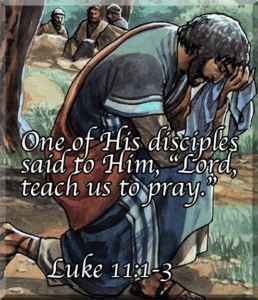 Now it came to pass, as He was praying in a certain place, when He ceased, that one of His disciples said to Him, "Lord, teach us to pray, as John also taught his disciples." So He said to them, "When you pray, say: Our Father in heaven, Hallowed be Your name. Your kingdom come. Your will be done, On earth as it is in heaven. Give us day by day our daily bread." Luke 11:1-3.
Do you remember how you learned to pray?  The first memory of prayer, is standing at the window, wondering why it rained.  I wanted to go outside and play.  Mother told me to pray.  I don't remember the words I used, or if I closed my eyes. When I finished Mother commented, "Look, it stopped raining! Now you can go outside and play."  
The beginning of the Lord's Prayer, acknowledges our Father in Heaven and  Who He is. We pray for His Will to come first on earth, not ours.  In Heaven, He is the supreme Ruler.  His Name is to be honored.
Give us our bread, daily. Is this food to eat or the spiritual Staff of Life Bread? In the 35th verse of John 6, Jesus taught,  "I am the the bread of life. Whoever comes to me will never be hungry again!" The Word of the Lord feeds our hearts. His Word gives us refuge and the strength to guard against evil thoughts, deeds, and speech.
We prove ourselves by our purity, our understanding, our patience, our kindness, by the Holy Spirit within us, and by our sincere love.  2 Corinthians 6:6.  The prayers of God's people are kept in Heaven in gold bowls. (Revelation 5:8).
And forgive us our sins, for we also forgive everyone who is indebted to us. And do not lead us into temptation but deliver us from the evil one." Luke 11:4.