May 20, 2020 – Psalm 34: 7-9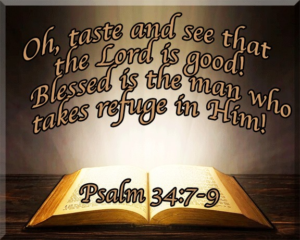 The angel of the Lord encamps around those who fear Him and delivers them. Oh, taste and see that the Lord is good! Blessed is the man who takes refuge in Him! Oh, fear the Lord, you, His saints, for those who fear Him have no lack! Psalm 34:7-9.
The wonder of the Presence of the Lord brings us peace chasing away clouds of fear.  Trusting God's goodness and faithfulness, we turn over and over to Him, who is able.  In the stillness of the morning, we keep silence before Him with hushed worship.
All the earth will keep silence, as they view the glory of your creation. Even the sound of thunder, reminds of the power and majesty of your presence. Each time we taste and read your Word, it brings us the joy of your goodness.
The Lord your God is in your midst, a mighty one who will save; He will rejoice over you with gladness; He will quiet you by His love; He will exult over you with loud singing.  Zephaniah 3:17.
 There is no fear in love, but perfect love casts out fear. For fear has to do with punishment, and whoever fears has not been perfected in love. We love because He first loved us.  I John 4:18-19.
God's love is about relationship with Him, and with those who who believe.  Together, we magnify the Lord together and exalt His Name.  Together, we worship Him in one accord.
Your righteousness, O God, reaches the high heavens. You who have done great things,  O God, who is like you?  Psalm 71:19.
I will bless the Lord at all times; His praise shall continually be in my mouth. My soul makes its boast in the Lord; let the humble hear and be glad. Oh, magnify the Lord with me, and let us exalt His name together! Psalm 34:1-3.