March 17, 2020 – Philippians 1:9-11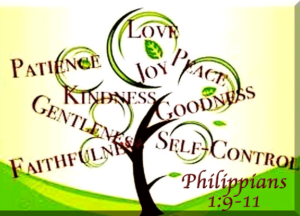 And it is my prayer that your love may abound more and more, with knowledge and all discernment, so that you may approve what is excellent, and so be pure and blameless for the day of Christ,  filled with the fruit of righteousness that comes through Jesus Christ, to the glory and praise of God. Philippians 1:9-11.
Such a blessing prayer is, that our love, not anger or hate, or ridicule, abounds more and more.  To be filled with the fruit of righteousness,  ours only through Jesus Christ, glorifies our God.   May these attributes become the way we are known. Living in this way leads us into holy living.
 But the fruit of the Spirit is love, joy, peace, patience, kindness, goodness, faithfulness,  gentleness, self-control; against such things there is no law.  And those who belong to Christ Jesus have crucified the flesh with its passions and desires. Galatians 5:22-24.
Do not be afraid of sudden terror or of the ruin of the wicked, when it comes,  for the Lord will be your confidence. Proverbs 3:25-26.  
May the God of endurance and encouragement grant you to live in such harmony with one another, in accord with Christ Jesus,  that together you may with one voice glorify the God and Father of our Lord Jesus Christ.  Romans 15:5-6.
The Lord is a stronghold for the oppressed, a stronghold in times of trouble.  And those who know your name put their trust in you, for you, O Lord, have not forsaken those who seek you. Psalm 9:9-10.
So if there is any encouragement in Christ, any comfort from love, any participation in the Spirit, any affection and sympathy, complete my joy by being of the same mind, having the same love, being in full accord and of one mind. Do nothing from selfish ambition or conceit, but in humility count others more significant than yourselves. Philippians 2:1-3.