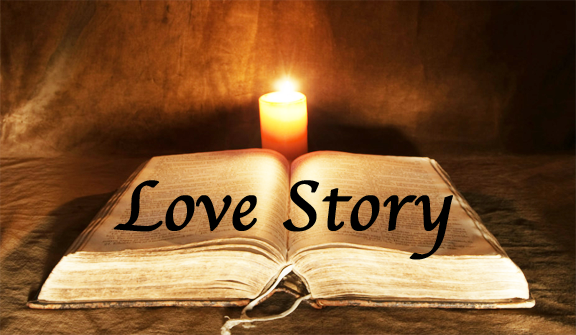 A
love story begins with commitment and joy.
The story is unending and travels through the highs and lows of emotion,
spiritual, and just the being together through the mundane and mountain heights
of life The key word is together.
When
I was small, we enjoyed family gatherings at Christmas.

When my Dad and his three brothers, all
fathers, sat in wooden straight chairs in a row, they told stories of long
before my time.

There was no greater joy
for me than to listen to their many stories and watch them slap their knees as
they laughed together.

Stories are for
the young and for the old.
A
story teaches, involves our very being, tugs at the heart, challenges us, and
opens new windows to the world we live in so that we understand.

Sometimes we can be so enveloped into the
'story'-world that we forget the 'real'-world.
Learning the difference sometimes can create havoc.

The contrived dilemmas that lead to happily ever after are not always so
easy in the real world.
When
I read Mother's journal from long ago, I searched for gems of thought, quips of
wisdom or bits of laughter.

I did not find
those 'forever remember' sayings.

Mom
wrote about the things that occupied her time – the every day chores, the
people who came and helping and sharing. She wrote the happenings of weather —
rain and sunshine and snow.

Then I realized
God desires faithfulness and steadfastness, even in the little things.

I re-read the journal with new eyes.

She held our family together and that was
her/our story.
Story is a way
of language in which everything and everyone is organically related. Story is a
way of language that people cannot be known by reducing them to what they do,
how they perform or the way they look.

(Eugene Peterson – The Pastor)
Reading genealogical stats of born and died does not touch the hyphen of time
when that person's story is written.
Each
of us writes a story that will be remembered by family and friends.

The WHO of our story is forever changed by
the WHOSE we are.

The principles by
which we live. One father told his children whenever they stepped out into the
world – remember who you are.

My Dad often told me the one thing that cannot be taken away from me is my reputation or who
people think I am.

Another wise man
said, What is most important of what God
thinks of us.
Our
story is enhanced by relationships with others. We do not live alone.

Our worth and being is reflected in those
around us.

What kind of story are we
writing?

A story of encouragement, love,
forgiveness, joy or are we writing a critical, hateful, angry story without
hope? This is our choice and it stands for an eternity, and our story is taught
to our children and children's children.
A
year ago we left a church family where our story was well known their stories
were known to us.

We came to a new
church family.

We hear names and bits
and pieces of their stories, but our lives are not yet entwined into one.

We miss the strength of being part of a
church family that will come in time…that relationship that mirrors our own
family.

We will grow into a family here
where sacrifice and joy are equally present.
Where suffering and hope are present in the hearts and lives of those
who follow Jesus.

Where conflict is
banished with encouragement and forgiveness and patience.

Where prayer is a matter from the heart and
God's Word is emblazoned on the heart, as well.
It is a new adventure of finding our place and what God wants of us
here.
The
chains of hatred, misunderstanding, criticism and labelling cripple only the
one who continues to let their minds indulge in self-pity and delusion of who
we are.

The only freedom and peace is in
our Lord Jesus.
The
question is, Are we living a story that is worth telling?

We have decisions to make every day.

The decisions we make color our story.

What if Noah decided that building an Ark was
too hard and refused?

What if Abraham
asked, "Go where?

Surely you jest.

I want to stay home!" What if Isaac refused
to go to the mountains with Abraham?
What if Jacob had not wrestled with the angel?

What if the disciples refused to follow
Jesus?

What if Jesus refused to come to
earth to die on the cross to save us from our sins?

Their stories would not be worth re-telling
to this day.
We
are a nation of instant gratification (the easy way out) and materialism
(keeping up with the Smiths, Joneses or the Browns').

And I turn back to the family stories of
sacrifice and love and worshiping God.

As
my Aunt Irene says, "How thankful I am for my ancestors and what the Lord has
done for our families because of them."
Yes, there stories, are a part of God's stories.

As a nation we have been blessed by trust and
faith.

Just as our story includes our
nation's story, our story is part of God's Love story.
The
beautiful song, tells us of hope for our story within God's Story.

(Townsend/Getty)
How deep the Father's love for us,
How vast beyond all measure
That He should give His only Son
To make a wretch His treasure.
Finally, brothers, rejoice. Aim for restoration, comfort one
another, agree with one another, live in peace; and the God of love and
peace will be with you.
II Corinthians 13:11
Is
it too late to write a love story?

Even
at the age 84, I know that my story is just begun, for I am never too old to revel
anew in God's Love Story and being a part of not only our family and in the
Family of God.
Comments? eacombs@att.net