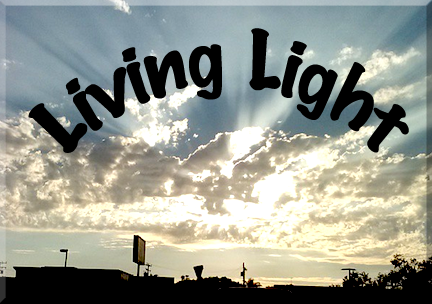 How fascinating lights are
to all of us.

From the flame of the
candle to the coal oil lamp, the lazy flickering in a dark room that casts
shadows here and there gives us hope.
Then came the incandescent bulb and power grids across the land.

No longer can the wonder of stars be observed
on a summer night when man-made lights stream from so many neon lights, street
lights, house lights, car lights, the blue flicker of television.
When we travelled in the
1930's across Oklahoma, and came to the high hill above Clinton, Dad, with his
steady hands on the Ford admonished us, "Now who will be first to see the
lights of home?"

We watched as we
crested the hill and there below us were twinkling thousands of lights of
home.
When I read the description
of travel of the Siemens family from West Prussia to Russia in the 1803, I
thought about the blackness of the hillside, with just the moon and stars above
them.

"
The trip of some 1500 miles
was made on foot with their essential supplies being carried in horse-drawn
carts."

Why did they travel so far? They
were motivated by their faith in God and belief to resist participation in
war.
We
have become 'power-junkies' desiring every new electric gadget that makes our
lives.

We desire the easy way of
life.

The ease of providing necessities
has made our acquisition of man-made lights take the place of the Light of the
World.

The Light that will never burns
out, or need to be replaced. The Light of Trust, Joy, Faith and Hope.

The Light that chases away the shadows in our
lives.

The Light that dwells in our
souls that cannot be chained as our bodies are, by evil, sickness and enemies. The
Light of Forever.
Where does light come
from?

It is amazing to know that the
light that God spoke

Light in the
beginning, it was described as good and was called Day.

(Genesis 1:3-5)

Then God sent His Son into the world.
• Everything was created through him; nothing — not one thing
— came into being without him. What came into existence was Life, and the Life
was

Light

to live by.
The Life-

Light

blazed out
of the

dark

ness; the

dark

ness couldn't put it out.
John 1:35 (ESV)
•

Jesus once again
addressed them: "I am the world's

Light

.
No one who follows me stumbles around in the

dark

ness. I provide plenty of

light

to live in."
John
8:12 (ESV)
The startling nuance of
light splashes against the dark and shines from every flame on the birthday
cake, reminding us of LIFE.

As a child,
we want to keep the light on, and as adults we value the reassurance of an
ever-glowing night light. Lights keep us from bumping into things that cause
harm.

When we are lost here on this
earth, finding our way again is like a light of knowing is lit in our hearts.
The Children of Israel had
assurance of guidance in the wilderness with a cloud by day and a pillar of
fire during the night.

When did they get
in trouble?

When they ignored their
guidance in the sky.
We also have can enjoy a
pillar of light in our lives during the darkest night.

God's Word.
But if we do not know its message, and ignore its guidance we lead a
dark life without hope.
•

"Your eyes are
windows into your body. If you open your eyes wide in wonder and belief, your
body fills up with

light

.
If you live squinty-eyed in greed and distrust, your body is a dank cellar. If
you pull the blinds on your windows, what a

dark

life you will have!
Matthew 6:22-23
We,
as children of God, receive His light.
Are we aware that we are bearing His light?

By choosing to shine with His Light, we
become a flame of light for those who stumble in the dark.
•

The ways of
right-living people glow with

light

;
the longer they live, the brighter they shine. But the road of wrongdoing
gets

dark

er and

dark

er— travelers can't see a thing;
they fall flat on their faces.
Proverbs
4:18-19
But
what can we do?

Eugene H. Peterson, from
The Contemplative Pastor, gives three
ways to be the light.

Be a person of
prayer, heartfelt prayer, for those in need, even when they don't know or are
blind to the power of prayer.

Listen,
take the time to hear other's words and most of all their hearts.

I can hear it now, for I have said it, "I'm
too busy."

Those words make one feel
needed, but are very empty when God has sent someone for us to care for and
nurture.

The third is to be drenched,
immersed in the scripture, able to give an answer to those who ask.

This is an 'off-the-stage-ministry'.

This is a heart ministry between God and you.
How
do we begin to shine?

Philippians
2:14-16 – Do all things without grumbling or disputing, that
you may be blameless and innocent, children of God without
blemish in the midst of a crooked and twisted generation, among whom you shine as lights in
the world, holding fast to the word of
life, so that in the day of Christ I may be proud that I did not
run in vain or labor in vain.
•

And the city has no
need of sun or moon to shine on it, for the glory of God gives it light, and its lamp is the Lamb.
Revelation 21:23
Not
complain or grumble?

But that is the
American way! Do those who suffer hardships for their faith today grumble or
complain?

Who would hear, or want
to?

A complaint or whine here or there
won't hurt, right?

Wrong.

Did Jesus complain going to the cross to give
His life for us?

Stop in the middle of
your complaint, and pray, and say, "Children of God, shine, don't whine!"*
*Quote from Randy Boltinghouse
Comments? eacombs@att.net