June 4, 2018 – Isaiah 30:18-19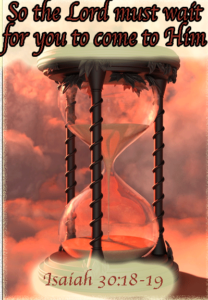 So the Lord must wait for you to come to him so He can show you his love and compassion. For the Lord is a faithful God. Blessed are those who wait for his help. O people of Zion, who live in Jerusalem, you will weep no more. He will be gracious if you ask for help. He will surely respond to the sound of your cries. Isaiah 30:18-19.
In our instant world, the last thing we want to do is wait for anything or anyone. Impatience is prevalent in prepared foods, instant coffee, pain relievers,  and even in prayers to God for complete and quick healing.  Traffic stop lights are something we hurry with a heavy foot on the gas pedal.
The fourth Gift of the Spirit is Patience – Love, Joy, Peace, Patience, and then Kindness. Patience is nestled between Peace and Kindness. The ability to wait brings peace to our hearts.  This peace allows us to contemplate and become aware of the needs of others and to show kindness.
When we become a child of God, believing in Jesus Christ, we have a song of Joy.  The song of victory is ours, for we are loved and cared for not for a moment, but for an eternity. "The Lord himself goes before you and will be with you; he will never leave you nor forsake you. Do not be afraid; do not be discouraged." Deuteronomy 31:8.
But let those who pursue You celebrate and have joy because of You.
And let the song of those who love Your saving grace never cease: "God is great!" Psalm 70:4 (The Voice)
But the people of God will sing a song of joy, like the songs at the holy festivals. You will be filled with joy, as when a flutist leads a group of pilgrims to Jerusalem, the mountain of the Lord—to the Rock of Israel. Isaiah 30:29.