June 26, 2019 – Psalm 150:1-2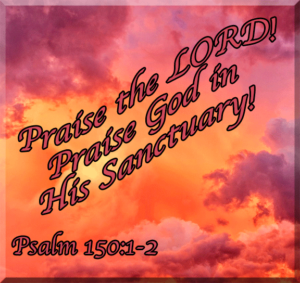 Praise the Lord! Praise God in His sanctuary; praise Him in His mighty heavens! Praise Him for His mighty deeds; praise Him according to His excellent greatness! Psalm 150:1-2.
The last Psalm adds another dimension to Praise.  From where we praise Him, to praising Him because of Who He is. We Praise Him with a variety of instruments. Everything that has breath will praise Him. And that breath comes from God Alone. 
A quote I read recently gives another avenue of Praise. "Prayer is not a duty or a habit, but pouring forth of the heart in Gratitude for every breath, every moment of life, and every experience!"  Sue Sikking.
Prayer coupled with Praise is our response of Thanksgiving to God. The Presence of God comes with every breath we take to live for Him. 
We may not have a trumpet, a lute, or a harp. But we have the gift of prayer. We praise Him in the way we choose to live, speak, and love. 
He leads the humble in what is right, and teaches the humble His way. All the paths of the Lord are steadfast love and faithfulness, for those who keep His covenant and His testimonies. Psalm 25:9-10. 
Living a life with a perspective of Praise and Thanksgiving and the anticipation of God's love and forgiveness creates an abundant life in Him.
I will give thanks to you, O Lord, among the peoples; I will sing praises to you among the nations. For your steadfast love is great to the heavens, your faithfulness to the clouds. Psalm 57:9-10
Praise Him with trumpet sound; praise Him with lute and harp! Praise Him with tambourine and dance; praise Him with strings and pipe! Praise Him with sounding cymbals; praise Him with loud clashing cymbals! Let everything that has breath, praise the Lord! Praise the Lord! Psalm 150:3-6.