June 19, 2019 – Zephaniah 3:17-18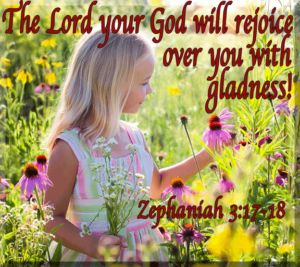 The Lord your God is in your midst, a mighty one who will save; He will rejoice over you with gladness; He will quiet you by his love; He will exult over you with loud singing. I will gather those of you who mourn for the festival so that you will no longer suffer reproach. Zephaniah 3:17-18.
Whose presence is constant and gives us great joy? The Lord our God! Psalm 21:6 tells us – talking about the  King –  For You make him most blessed forever; You make him glad with the joy of Your Presence.
Awareness of His Presence comes through the rejoicing over us with gladness and the Peace coming from His love.  He joyfully sings over us.
When it is Time, our Lord's will gather us Home. We will see Him face to face in all His Glory. His faithfulness never ends.
Steadfast love and faithfulness meet; righteousness and peace kiss each other. Faithfulness springs up from the ground, and righteousness looks down from the sky. Psalm 85:10-11.  
Is there an end to the wonder of our Lord's Faithfulness and Love? For the Lord is good; His steadfast love endures forever, and His faithfulness to all generations. Psalm 100:5.  
May God be gracious to us and bless us and make His face to shine upon us,  that Your way may be known on earth, Your saving power among all nations. Let the peoples praise You, O God; let all the peoples praise You!  Psalm 67:1-3
Behold, at that time I will deal with all your oppressors. And I will save the lame and gather the outcast, and I will change their shame into praise and renown in all the earth. At that time I will bring you in, at the time when I gather you together; for I will make you renowned and praised among all the peoples of the earth, when I restore your fortunes before your eyes, says the Lord. Zephaniah 3:19-20.