June 17, 2019 – John 14:1-2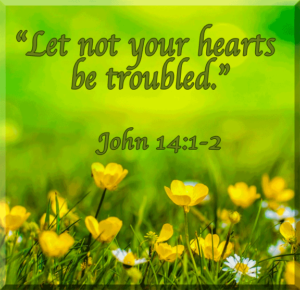 "Let not your hearts be troubled. Believe in God; believe also in me. In my Father's house are many rooms. If it were not so, would I have told you that I go to prepare a place for you?" John 14:1-2.
This morning begins with a slight case of fog.  Vision is hampered, yet we know that bright sunbeams will brighten the day,
So it is when we despair, our spiritual vision is clouded. From the first time I read this scripture, it became my favorite and increased my faith each time I read it.  Believing in God and in God's Son Jesus, is the key to clarity of belief.
Jesus invites us to God's House. He promises rooms for each one of us! Jesus continues to assure us through out this chapter of assurance.  He is coming again and will take us to the place where He is. Jesus said to him, "I am the Way, and the Truth, and the Life. No one comes to the Father except through me." John 14:6.
 "I will not leave you as orphans; I will come to you.  Yet a little while and the world will see me no more, but you will see me. Because I live, you also will live.  In that day you will know that I am in my Father, and you in me, and I in you.  John 14:18-20.
O, how we desire peace.  "Peace I leave with you; my peace I give to you. Not as the world gives do I give to you. Let not your hearts be troubled, neither let them be afraid." Verse 27.
"And if I go and prepare a place for you, I will come again and will take you to myself, that where I am you may be also. And you know the way to where I am going." John 14:3-4.