June 13, 2017 – Galatians 6:8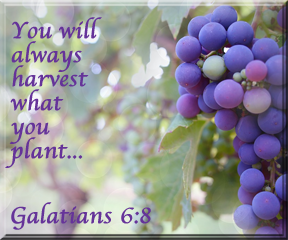 Those who are taught the word of God should provide for their teachers, sharing all good things with them. Don't be misled—you cannot mock the justice of God. You will always harvest what you plant. Galatians 6:8
Gardening often seems like hard work.  Especially for a teenager.  I was once given the task of planting green onions.  The neighbor girl came over, watched, and commented, "You keep on keepin' on!"  My thoughts exactly.
As I planted, I knew what I would harvest!  Onions!  Who were my teachers for this endless task?  My parents.  I wasn't always thrilled with the gardening tasks they gave me.  I soon learned that shirking my duty would bring hardship for me. Taking care of my first teachers – my parents – has untold blessings.
As we live our lives — 'keeping on keeping on' — we grow weary and wonder if what we do matters. The harvest of blessings is coming.  Have you ever read Matthew 1:1-17?   This is a list of generations — before Jesus.  A generation is one man's life, in all, forty-two generations from Abraham to Jesus.  Each life is important to God, and He has plans for you.
When all that we are and do, is done to the glory of Jesus… we will reap a harvest of blessings!  Never tire of doing good — there is a harvest of blessing awaiting us from God our Father.  A line from a song continues to bless me, "So let go my soul, and trust in Him. The waves and the wind still know His Name!  It is well with my soul."
So let's not get tired of doing what is good. At just the right time we will reap a harvest of blessing if we don't give up. So let's not get tired of doing what is good. At just the right time we will reap a harvest of blessing if we don't give up. Galatians 6:8-9