July 4, 2019 – I John 3:1-2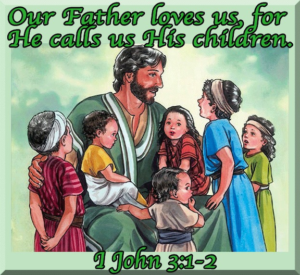 See how very much our Father loves us, for He calls us His children, and that is what we are! But the people who belong to this world don't recognize that we are God's children because they don't know him. Dear friends, we are already God's children, but He has not yet shown us what we will be like when Christ appears. But we do know that we will be like Him, for we will see Him as He really is. I John 3:1-2. 
On this day, Americans celebrate freedom, but what is the real state of freedom?  It is being loved and loving as a treasured son or daughter!  It is the welcome feeling of belonging in the home.  The slave does not remain in the house forever; the Son remains forever.  So if the Son sets you free, you will be free indeed.  John 8:35-36.
What are the commandments of our Lord? Matthew 22:36-39 contains the two commandments!  "You shall love the Lord your God with all your heart and with all your soul and with all your mind.  This is the great and first commandment.  And a second is like it: You shall love your neighbor as yourself."
For what purpose and when did this love begin? Father, I desire that they also, whom You have given Me, may be with Me where I am, to see my glory that You have given Me because You loved Me before the foundation of the world. John 17:24. This love began before we were born.
True freedom comes from being allowed and encouraged to Love as Our Father in Heaven loved his Son Jesus.
And you know that Jesus came to take away our sins, and there is no sin in Him. Anyone who continues to live in Him will not sin. But anyone who keeps on sinning does not know Him or understand who He is. I John 3:5-6.