July 31, 2018 – Psalm 119:89-91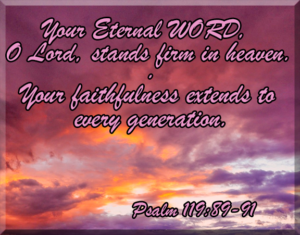 Your eternal word, O Lord, stands firm in heaven. Your faithfulness extends to every generation, as enduring as the earth you created. Your regulations remain true to this day, for everything serves your plans. — Oh, how I love your instructions! I think about them all day long. Psalm 119:89-91.
For I know the plans I have for you," says the Lord. "They are plans for good and not for disaster, to give you a future and a hope. In those days when you pray, I will listen.  If you look for me wholeheartedly, you will find me. Jeremiah 29:11-13.  Even when God's children were captured by the Babylonians because of their disobedience, God promised them His Presence, 'If you look for me wholeheartedly'.  
It is when we delight in the Presence of our Lord, He hears us when we pray.  God has a master plan for each of His Children.  His faithfulness stands firm and serves His plans.  Generation after Generation, His Children know His steadfast love, His guidance, and His generous gifts.
I am always thinking of your Law of Love written in your Word.  Fear of the Lord is the foundation of true wisdom. All who obey his commandments will grow in wisdom. Praise Him forever!  Psalm 111:10
But they delight in the law of the Lord, meditating on it day and night. They are like trees planted along the riverbank, bearing fruit each season. Their leaves never wither, and they prosper in all they do.  Psalm 1:2-3
Your commands make me wiser than my enemies, for they are my constant guide. Yes, I have more insight than my teachers, for I am always thinking of your laws. Psalm 119:97-99.