July 3, 2019 – Romans 5:5-6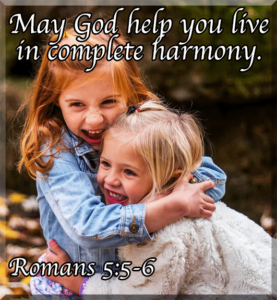 May God, who gives this patience and encouragement, help you live in complete harmony with each other, as is fitting for followers of Christ Jesus. Then all of you can join together with one voice, giving praise and glory to God, the Father of our Lord Jesus Christ. Romans 5:5-6.
What occasions do we celebrate? We all celebrate new life, the attainment of a goal, and achievements along the way.  The reasons to celebrate changes as we become older. We often neglect the qualities of  patience and living in complete harmony with each other.  
 For God has not called us for impurity, but in holiness.  Therefore whoever disregards this, disregards not man but God, who gives His Holy Spirit to you. 1 Thessalonians 4:7-8. 
We are called to live holy lives. but as He who called you is holy, you also be holy in all your conduct, since it is written, "You shall be holy, for I am holy."  I Peter 1:15-16.  Is this an impossibility? With God all things are possible, for He is our Source of Hope, Joy, and Peace.  
 "For God so loved the world, that He gave His only Son, that whoever believes in Him should not perish but have eternal life." John 3:16. 
Jesus Christ is the same yesterday and today and forever. Hebrews 13:8. 
 Finally, brothers, rejoice. Aim for restoration, comfort one another, agree with one another, live in peace; and the God of love and peace will be with you.  2 Corinthians 13:11.
I pray that God, the Source of Hope, will fill you completely with  joy and peace because you trust in Him. Then you will overflow with confident hope through the power of the Holy Spirit. I am fully convinced, my dear brothers and sisters, that you are full of goodness. You know these things so well you can teach each other all about them.  Romans 15:13-14.