July 3, 2017 – Matthew 10:28-29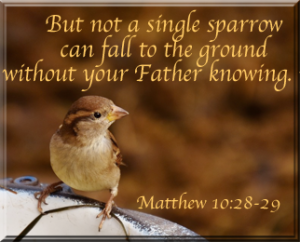 "Don't be afraid of those who want to kill your body; they cannot touch your soul. Fear only God, who can destroy both soul and body in hell. What is the price of two sparrows—one copper coin? But not a single sparrow can fall to the ground without your Father knowing it. Matthew 10:28-29
So often a sparrow is simply an inconsequential flutter of wings, and is gone. A drab 'the least of these' kind of bird. A black and white bird with not a speck of brilliant color or personality.  The perky sparrow's presence is ignored.
Yet God spotlights the lowly sparrow in Matthew 10, just as He loves the quiet student in the classroom, the hard worker on the job, and the poor in the streets, along with the widows and orphans.  He counts the stars and knows them by name.
You made all the delicate, inner parts of my body

and knit me together in my mother's womb.

Thank you for making me so wonderfully complex!

Your workmanship is marvelous—how well I know it.

  Psalm 139:13-14.
The old hymn is true –God will take care of you – Through everyday o'er all the way – He will care for you, God will take care of you. How often we fear what man can do, when we need to fear God in all His Glory.  His Word is final and He has power of life or death over each of us. 
God sent Jesus as our Way to God. When we accept Jesus as our personal Savior, this verse gives us the surety of God's Love – No power in the sky above or in the earth below—indeed, nothing in all creation will ever be able to separate us from the love of God that is revealed in Christ Jesus our Lord.  Romans 8:39.
Every day, as you brush your hair, and you see strands of hair in your brush, God has already subtracted the number from His count.  God IS!

And the very hairs on your head are all numbered. Matthew 10:30